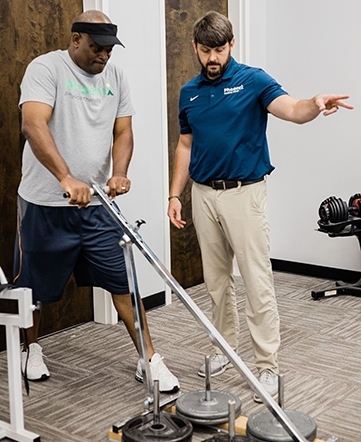 Phoenix helps employers ensure that prospective employees are capable of performing their job tasks with a Pre-employment / Post-Offer Physical Capacity Screen. Our Physical and Occupational Therapists examine the potential employees past medical history and conduct a detailed pre-employment physical exam that includes:
Physical ability testing
Strength
Range of motion
Balance
Cardiovascular endurance to work tasks
Ability to handle materials (up to 33% of the workday or 66% of the workday)
Non-material handling tasks (e. standing, walking, bending)
When possible, our employee physical tests are customized to fit specific job descriptions as directed by the employer.
New Patient Info
Welcome to the Phoenix family! You're one step closer to feeling like you again. You can expect superior care at each step of your rehabilitation journey, starting with scheduling your first appointment. After scheduling your first appointment, we encourage you to download and fill out your patient forms and insurance information.
Meet The Team
Shilpa Rao , DPT

Clinic Director, Physical Therapist

View Profile
A large part of what sets Phoenix apart is our team. We are proud to employ highly trained professionals who are not only skilled at what they do, but are passionate about providing you with individualized care. Our Phoenix team members are what makes achieving quality clinical outcomes possible through expertise and a personal approach.
Welcome to
Mentor
Welcome to Hands-On Physical Therapy - Mentor, part of the Phoenix Physical Therapy family. Our team is ready to help patients recover, recharge and rise. We develop a customized therapy plan for each patient to get them back to enjoying their favorite activities. Our experienced team is committed to providing exceptional care in a professional environment. Whether you're looking to prevent or treat an injury, recover from a recent illness or recuperate from surgery, schedule an appointment with our Mentor clinic and take advantage of our Physical Therapy services...
Skip Facebook news feed widget
Phoenix Physical Therapy is the reason I am able to use my shoulder again comfortably. The staff is friendly, helpful and committed to your well being. Physical therapy is hard, your weak spots are targeted. They are however there to ensure you will be made wholesome again
State College Patient