Become Part of the Team that Helps Patients Recover, Recharge and Rise
As a people-centric and care-focused organization, we are always looking for highly skilled clinicians and experienced professionals to join the Phoenix Physical Therapy family of companies. Phoenix was founded more than 20 years ago to set a new standard for outpatient physical therapy. We have worked to create a company that not only provides the best patient experience imaginable but the company that physical therapists seek out, eager to be a part of the Phoenix team. Our leadership continues to draw from our founding principles by hiring highly skilled clinicians and provide them autonomy to deliver high quality, on-time patient engagement thru the practice of human touch.
Phoenix has more than 140 clinics in 11 states and nearly 1,000 team members. We have grown our company's footprint by carefully selecting organizations that operate community-based clinics, share our commitment to providing personalized 1:1 care, and foster an intentional company culture.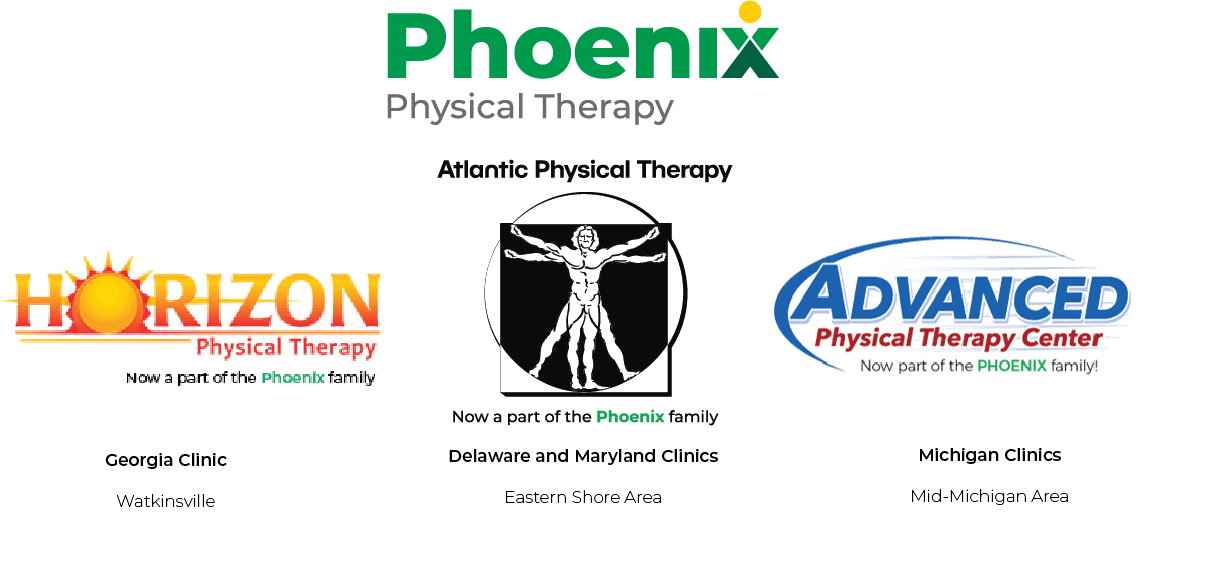 As a company, we support our team members so they can provide exceptional care to our patients. Our clinicians have access to continuing education opportunities to advance their professional and personal development. We are proud to share that we maintain a higher-than-average retention rate allowing us to provide patients with consistent care from the clinicians they know and trust.
Even if there is not an open position in your area of expertise or geographic location, feel free to submit your resume and we will keep it on file for future consideration. We are always looking for the best talent to join our team.
Interested in Joining Our Team – Checkout our Current Openings
Benefits
We proudly offer a generous benefit package to full-time and regular part-time employees. From paid time off to health care coverage to a 401(k) Company sponsored retirement plan, we believe in taking care of and supporting those who make us great. Our comprehensive benefits package includes:
Paid Time Off
6 Company Paid Holidays
Bereavement
Health Insurance
Dental Insurance
Vision Insurance
401(k) Retirement Plan (Including Company Match Program)
Life and AD&D Insurance (Including Employer Paid Coverage)
Short Term Disability
100% Employer Paid Long Term Disability
Accident Insurance
Critical Illness insurance
Health Savings Account (Including Company Seed Money)
Medical Flexible Spending Account
Dependent Care Flexible Spending Account
Continuing Education Allowance
Professional Membership Dues
*Benefits are subject to eligibility requirements
Phoenix Physical Therapy companies are Equal Opportunity Employers. Qualified applicants will receive consideration for employment without regard to race, color, religion, sex, national origin, sexual orientation, gender identity, disability or protected veteran status.
At Phoenix, we do not take our patients for granted unlike the hospital or physician-owned physical therapy clinics that are so common today. We value each and every patient and always try to bring our "A" game with each and every visit to achieve the best outcomes for every patient we treat. Our success is very dependent on "word of mouth" referrals from prior satisfied patients and the physicians that refer them to us.
I have been employed by Phoenix for the past 17 years as a Clinic Director. This career path has given me opportunities that I would not have seen with any other employer, to include advancement, continuing education and development of programs. Phoenix provides an efficient framework for operations, billing and compliance, but yet provides the opportunity to operate a clinic as if it were my own, but provides the stability and compliance that would be impossible if I were a sole proprietor.
I had the pleasure of being offered a position as a facility director at the same clinic that I had once started as an aide, and 12 years later, I'm just as pleased with the company and their ideals of quality vs. quantity care. Phoenix also provides a generous yearly continuing education package as they are focused on all therapists advancing their skills in the field, and maintaining high standards for their employees. I would highly recommend working for Phoenix to any therapist, new or experienced.
When I joined Phoenix Physical Therapy, my initial thoughts were to have my own practice. I couldn't be happier with my decision to join Phoenix PT. I have had all of the autonomy (and financial incentive) of my own practice under the protective blanket of a well run corporation.