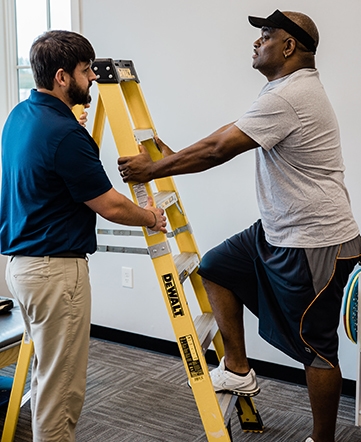 Phoenix Physical Therapy takes a comprehensive approach to preventing and treating work-related injuries. We believe it is important to partner with employers and payers to understand their processes and needs. We can customize solutions to fit your employee population.Phoenix takes the time to train our clinicians on best practices for managing work-related injuries. We provide our clinicians with expert support to mitigate a myriad of challenges when caring for individuals with work-related injuries. This includes:
Quick Access and Authorization
We work with your employees to get them scheduled within 24-48 hours and manage authorization from the start of care to discharge to minimize unnecessary delays in care that can cause frustration.
Communication
Communication between the employee, employer, and healthcare team is a key component in managing work-related injuries successfully. Phoenix takes this seriously and works to customize communication based on employer preferences as well as communicating key information about the case including but not limited to cancels and no shows, progress notes prior to follow up visits, changes in status, discharge planning, and current work-related functional abilities.
Complexity Assessment
A multi-system assessment is performed to determine if an employee has underlying factors that may increase their risk of a delayed outcome or risk of chronicity/disability. Clinicians use an integrative proactive patient-centric approach to target modifiable risk factors that can include poor sleep hygiene, poor pain management, and psychosocial risk factors to reduce their negative impact.
Job Related and Functional Progression
Employee specific job-related activities and functional skills are assessed and integrated into the care plan from day one at an appropriate level. The goal is to safely progress employees back to their maximum potential after an injury without affecting other functions.
Efficient Care
Care is goal oriented and progressive to assist with a speedy recovery to the highest level of function in the least number of days and visits.
For Injury Prevention, we offer comprehensive employer-based services as well as clinic-based services. These include:
Job Analysis – Quantifying the essential physical demands of the job is the base of any injury prevention and management program.
Post-Offer Employment Testing – Don't hire your next WC claim. Test all job candidates to ensure they are physically capable of the job before they start. If your employees are getting musculoskeletal injuries in the first year on the job, or you have high turnover you can cut the cost in half by implementing a quality legally defensible POET program.
Ergonomic Programs – We offer industrial and office ergonomic screens and comprehensive assessments depending on your needs. If you have trends for injuries in a specific job or department, an ergonomic assessment may be a good way to identify the root cause and find effective solutions to improve.
Early Symptom Intervention – Using OSHA approved first aid treatments, our trained clinicians educate employees on safer work and home behaviors and teach them to perform self-management techniques early before a complaint turns into an injury. These programs often have a 70-80% resolution rate with no ongoing care needs.
Job Coaching – Certified Phoenix Injury Prevention Specialists come onsite to assist with implementation of safety and ergonomic protocols for new hires, high risk areas and employees returning from injury to ensure a safe motivated workplace and reduced injuries.
Phoenix Physical Therapy takes pride in our workers' comp partnerships, and we are dedicated to providing successful outcomes. Please reach out to us today if you would like to consult on customized injury management or prevention solutions for your team.
New Patient Info
Welcome to the Phoenix family! You're one step closer to feeling like you again. You can expect superior care at each step of your rehabilitation journey, starting with scheduling your first appointment. After scheduling your first appointment, we encourage you to download and fill out your patient forms and insurance information.
• Medicare (Novitas)
• Highmark BCBS (Traditional)
• Premier Blue Shield Network, Medicare Advantage, Keystone Health Plan West Network
o KeystoneBlue HMO
o PPOBlue
o SelectBlue HMO, POS
o SecurityBlue MC, HMO
o CommunityBlue HMO, POS
o DirectBlue
o FreedomBlue MC, PPO
• Highmark Blue Shield
• Premier Blue Shield Network, Medicare Advantage, Participating Network
• Blue Cross of NEPA
o First Priority Health HMO, POS
o First Priority Life EPO
o BlueCare Senior
• Independence Blue Cross
o Personal Choice PPO
• Horizon BC/BS NJ (PPO)
• Capital BC/Capital Advantage Ins. Co (Traditional, Comprehensive, Options, PPO, SeniorBlue)
• Keystone Health Plan Central (KHPC) HMO
• AmeriHealth Administrators (PPO)
• Tricare Standard (INDEMNITY)
• Health America
o West (HMO)
o Central (HMO)
o Heath Assurance (PPO, POS), Advantra (MC HMO)
• Great-West Healthcare (PPO/POS)
• UPMC
o NON Par – Latrobe, Mt. Lebanon, New Castle
• CIGNA
• ASHf ormerly OrthoNet
• Geisinger Health Plan
• Medicaid
o AETNA Better Health formerly Coventry Cares
o Amerihealth Caritas/N. East
o Coventry Cares
o Gateway
o Geisinger Family
o UHC Community Plan (Families, Kids & Dual Complete)
o UPMC For You
• AETNA (PPO, POS, HMO)
• United Healthcare
Meet The Team
Andrew Dearoff, PT, DPT

Clinic Director, Physical Therapist

View Profile

Susan B. Fix, PT, MPT

Physical Therapist

View Profile

Jeffrey M. Nicastro, D.C.

Chiropractor

Brooke Hensen, PT, DPT

Physical Therapist

Hannah Ulsh, PTA

Physical Therapy Assistant

Michelle Confer

Patient Care Coordinator II

Samantha Woomer, PTA

Physical Therapy Assistant
A large part of what sets Phoenix apart is our team. We are proud to employ highly trained professionals who are not only skilled at what they do, but are passionate about providing you with individualized care. Our Phoenix team members are what makes achieving quality clinical outcomes possible through expertise and a personal approach.
Welcome to
State College
Welcome! The Phoenix Physical Therapy – State College team is ready to help patients recover, recharge and rise. We develop a customized therapy plan for each patient to get them back to enjoying their favorite activities. Our experienced team is committed to providing exceptional care in a professional environment. Whether you're looking to prevent or treat an injury, recover from a recent illness or recuperate from surgery, schedule an appointment with our State College clinic and take advantage of our Physical Therapy, Workers' Comp and Employer Solutions services...
Skip Facebook news feed widget
Phoenix Physical Therapy is the reason I am able to use my shoulder again comfortably. The staff is friendly, helpful and committed to your well being. Physical therapy is hard, your weak spots are targeted. They are however there to ensure you will be made wholesome again
State College Patient