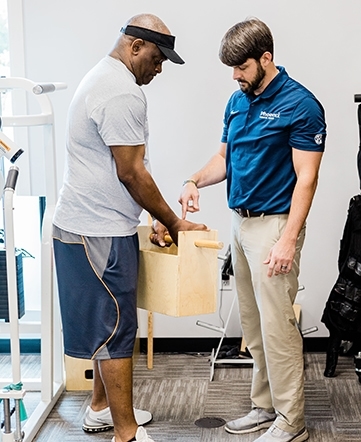 If an employer or physician requests, Phoenix Physical and Occupational Therapists will evaluate a specific job site for an employee or general job description. Our workplace safety analysis includes:
Job safety analysis
Job hazard analysis
Employee workforce safety
Ergonomic settings
Workplace health and safety training
OSHA workplace safety analysis
Patient education that ensures proper body mechanics are used by the employee
Once the evaluation is complete, a report is generated to suggest what changes, if any, are needed to maximize the workstation's compatibility with the employee. This program also encourages the employee to take an active role in his/her injury prevention.
New Patient Info
Welcome to the Phoenix family! You're one step closer to feeling like you again. You can expect superior care at each step of your rehabilitation journey, starting with scheduling your first appointment. After scheduling your first appointment, we encourage you to download and fill out your patient forms and insurance information.
• Medicare (Novitas)
• Highmark BCBS (Traditional)
• Premier Blue Shield Network, Medicare Advantage, Keystone Health Plan West Network
o KeystoneBlue HMO
o PPOBlue
o SelectBlue HMO, POS
o SecurityBlue MC, HMO
o CommunityBlue HMO, POS
o DirectBlue
o FreedomBlue MC, PPO
• Highmark Blue Shield
• Premier Blue Shield Network, Medicare Advantage, Participating Network
• Blue Cross of NEPA
o First Priority Health HMO, POS
o First Priority Life EPO
o BlueCare Senior
• Independence Blue Cross
o Personal Choice PPO
• Horizon BC/BS NJ (PPO)
• Capital BC/Capital Advantage Ins. Co (Traditional, Comprehensive, Options, PPO, SeniorBlue)
• Keystone Health Plan Central (KHPC) HMO
• AmeriHealth Administrators (PPO)
• Tricare Standard (INDEMNITY)
• Health America
o West (HMO)
o Central (HMO)
o Heath Assurance (PPO, POS), Advantra (MC HMO)
• Great-West Healthcare (PPO/POS)
• UPMC
o NON Par – Latrobe, Mt. Lebanon, New Castle
• CIGNA
• ASHf ormerly OrthoNet
• Geisinger Health Plan
• Medicaid
o AETNA Better Health formerly Coventry Cares
o Amerihealth Caritas/N. East
o Coventry Cares
o Gateway
o Geisinger Family
o UHC Community Plan (Families, Kids & Dual Complete)
o UPMC For You
• AETNA (PPO, POS, HMO)
• United Healthcare
Meet The Team
Carrie B. Fogel, PT, DPT

Clinic Director / Physical Therapist

View Profile

Ruby Maurer, PCC

Patient Care Coordinator

Stacey Brown, PTA

Physical Therapist Assistant
A large part of what sets Phoenix apart is our team. We are proud to employ highly trained professionals who are not only skilled at what they do, but are passionate about providing you with individualized care. Our Phoenix team members are what makes achieving quality clinical outcomes possible through expertise and a personal approach.
Welcome to
Selinsgrove
At Phoenix, we're committed to providing physical rehabilitation that is effective, purposeful and cost-efficient. From your very first appointment to your last, you can expect high-quality care in a positive and upbeat Phoenix setting. Our highly trained staff is committed to providing you with the best rehabilitative care. We believe that quality clinical outcomes are born by combining patient education with personalized patient care and treatment plans. Start feeling like you again with our Selinsgrove location's Physical Therapy and Occupational Health Rehabilitation services...
Skip Facebook news feed widget
The staff here is absolutely amazing . I would never go to anyone else other than bob to rehab . He knows his stuff and is so helpful. A+++++++ service
Indiana Patient