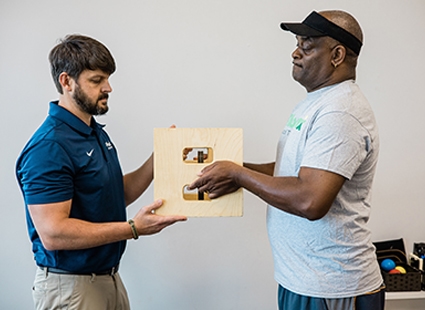 A combination of work conditioning and work hardening, work rehabilitation addresses physical, functional, behavioral, vocational needs within a multi-disciplinary model that includes medical and workplace stakeholders.
Utilizes various therapeutic interventions with functional emphasis
Emphasizes the role of the employee/work activities
Treatment time is determined by situational analysis, may extend from hour/multi-hour sessions depending on evaluation and the plan of care
Enables the employee to return to work at a pre-injury work level, in a safe and timely fashion.
Pasadena – Coming Soon Services
New Patient Info
Welcome to the Phoenix family! You're one step closer to feeling like you again. You can expect superior care at each step of your rehabilitation journey, starting with scheduling your first appointment. After scheduling your first appointment, we encourage you to download and fill out your patient forms and insurance information.
Meet The Team
Melissa Knott, PT, DPT, CDNT, CLT

Clinic Director, Physical Therapist

View Profile
A large part of what sets Phoenix apart is our team. We are proud to employ highly trained professionals who are not only skilled at what they do, but are passionate about providing you with individualized care. Our Phoenix team members are what makes achieving quality clinical outcomes possible through expertise and a personal approach.
Welcome to
Pasadena
"Pasadena – Coming Soon!" Welcome! The Phoenix Physical Therapy – Pasadena team is ready to help patients recover, recharge and rise. We develop a customized therapy plan for each patient to get them back to enjoying their favorite activities. Our experienced team is committed to providing exceptional care in a professional environment. Whether you're looking to prevent or treat an injury, recover from a recent illness or recuperate from surgery, schedule an appointment with our Pasadena clinic and take advantage of our Physical Therapy, Workers' Comp and Employer Solutions services...
Skip Facebook news feed widget
Both my husband and my daughter have benefited greatly from the awesome care, positive environment, and overall professionalism at Phoenix Physical Therapy in Scott Twp. We give them 5 stars!
Scott Township Patient