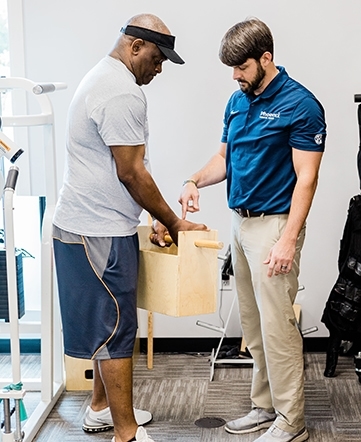 If an employer or physician requests, Phoenix Physical and Occupational Therapists will evaluate a specific job site for an employee or general job description. Our workplace safety analysis includes:
Job safety analysis
Job hazard analysis
Employee workforce safety
Ergonomic settings
Workplace health and safety training
OSHA workplace safety analysis
Patient education that ensures proper body mechanics are used by the employee
Once the evaluation is complete, a report is generated to suggest what changes, if any, are needed to maximize the workstation's compatibility with the employee. This program also encourages the employee to take an active role in his/her injury prevention.
New Patient Info
Welcome to the Phoenix family! You're one step closer to feeling like you again. You can expect superior care at each step of your rehabilitation journey, starting with scheduling your first appointment. After scheduling your first appointment, we encourage you to download and fill out your patient forms and insurance information.
Meet The Team
Kelly Clancy, PT, DPT

Clinical Director,Physical Therapist

View Profile

Olivia Pratt

Patient Care Coordinator II
A large part of what sets Phoenix apart is our team. We are proud to employ highly trained professionals who are not only skilled at what they do, but are passionate about providing you with individualized care. Our Phoenix team members are what makes achieving quality clinical outcomes possible through expertise and a personal approach.
Welcome to
Mechanicsburg
The Phoenix PT, OT and AT at Messiah University, Winding Hill team provides physical therapy, occupational therapy, and athletic training services to treat patients of all ages and skill levels. In addition, we offer manual, hands-on therapy services, including pre-and post-surgery rehabilitation, injury prevention and recovery, treatment for diseases, including Parkinson's and Multiple Sclerosis, various illnesses, chronic pain, headaches, pediatric care and development, sports injuries and training, pre-employment screening and evaluation, and therapy for work-related injuries, amongst others. Clinic Director Kelly Thomas Clancy is an '06 Messiah alum and a former Messiah soccer player who was part of the University's 2005 national championship team...
Skip Facebook news feed widget
The doctor and assistants are very professional. They show a lot of concern for the injury and recovery. I feel so much better after my visits, they are amazing!
Bloomsburg Patient