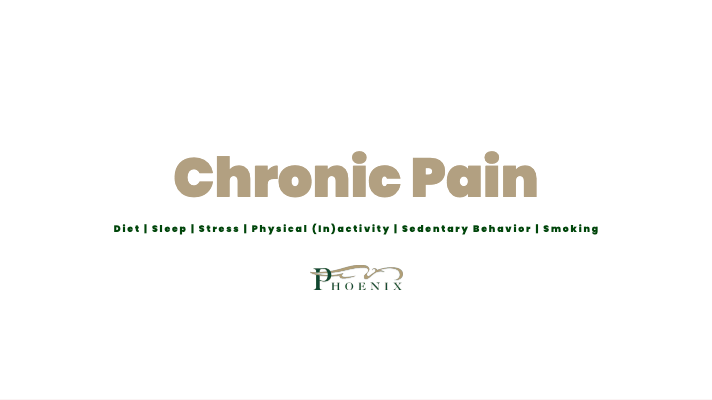 Chronic pain affects up to 30 percent of the population, and its prevalence is higher than any other chronic disease, far outnumbering diseases such as cancer and diabetes.
It has a tremendous personal and socio-economic impact: it causes the highest number of years lived with disability and is associated with a decreased life expectancy.
This result is explained partly by adverse lifestyle factors associated with chronic pain such as physical (in)activity, sedentary behavior, stress, poor sleep, unhealthy diet, and smoking.
These factors have been linked to the severity and persistence of pain. This outcome applies to all age categories, that is, chronic pain across the lifespan.
The idea that chronic pain management should utilize multimodal treatment interventions is not new; however, these multimodal interventions are often standardized, versus being individually tailored to each specific patient.
Evidence suggests that the best treatment programs are tailored individually to the specific needs and lifestyle factors of each patient.
Simultaneously addressing multiple lifestyle factors will lead to the best improvement in this condition.
Six Lifestyle Factors Which Can Be Modified to Improve Chronic Pain
Sleep
53-90 percent of adults with this condition suffer from insomnia. Sleep disturbances have a bi-directional relationship with and can perpetuate chronic pain. Managing sleep disturbances with proper sleep hygiene, stress management, and medication can be effective treatments to improve sleep.
Stress
Many people living with chronic pain have dysfunctional stress response systems. Clinically, this manifests as intolerance to stressors (either physical or emotional) during daily life. Stress management programs are a key component of treatment. This may include deep breathing exercises, meditation, self-care routines, and counseling.
Physical (In)activity
People suffering from this condition often decrease their physical activity; the more severe the pain, typically, the less someone is active. Exercise is often avoided due to the fear of movement and the belief that increased pain means increased damage. In actuality, pain is not correlated to damage, and exercise is one of the best treatments for chronic pain, even if it causes discomfort during the activity.
Sedentary Behavior
Sedentary behavior is often confused with physical inactivity; however, a person can be highly sedentary (spend the majority of the day sitting) and still be physically active on the same day. Engaging in sedentary behavior, such as watching more than 60 minutes of TV on a weekday, is associated with a greater likelihood of having this condition.
Diet
Being overweight and obesity are associated with more severe and debilitating chronic pain, and the prevalence of this condition is higher in those with higher BMIs. Conversely, a healthy and nutritious diet provides the proper building blocks needed in countering the negative effects of chronic stress, poor sleep, and chronic pain.
Smoking
Smoking has been linked to the intensity and prevalence of this condition. Daily smokers have a higher pain severity than non-smoking people with chronic pain. Smoking cessation is a key component in recovery.
At Phoenix, we seek to understand all contributing lifestyle factors that are associated with a patient's condition and provide our patients with education and resources on how to improve sleep, stress, diet, and physical inactivity.
Pain management for this condition can be overwhelming. If you or someone you know is suffering from chronic pain – don't struggle alone. Reach out to your local Phoenix physical therapist today to jumpstart your road to recovery.
Reference: Nijs J, et al. Lifestyle and chronic pain across the lifespan: An inconvenient truth? Physical Medicine and Rehabilitation. 2019. doi: 10.1002/pmrj.12244. [Epub ahead of print]
Casey Miller, PT, DPT, OCS graduated from Boston University with her Doctorate of Physical Therapy in 2013. She specializes in treating patients with orthopedic conditions and those in chronic pain. She has advanced post-doctoral training in orthopedics, is an Orthopedic Residency graduate, a Board-Certified Orthopedic Clinical Specialist, and a Fellow in Training with Bellin College. Casey is the Facility Director at the East Beach Norfolk, Virginia, location, and is passionate about providing highly individualized, hands-on care that focuses on the entire person.