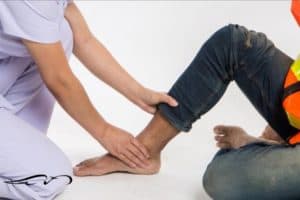 Do you work in an industrial or manufacturing setting? Do you have a work-related injury? If so, Phoenix Physical Therapy can provide you with physical therapy services tailored explicitly to your work-related injury.
Listed below are five components of our Workers' Compensation Rehabilitation Program.
Communication
Phoenix will reach out to the employer to obtain a job description for the injured worker so that job-specific training can begin on day one as appropriate. This process helps us help YOU achieve your work-related goals.
Scheduling within 24 hours
At Phoenix, we schedule the injured worker within 24 hours of calling for an evaluation.
Extended treatment hours include before and after work appointments.
Job-Specific Training
A simulation of work-related tasks is performed to ensure the patient's quickest and safest return to work. This task can include material handling such as lifting or carrying, as well as positional tolerances such as walking, crawling, climbing, etc.
"Hands-on" Treatment
Our licensed clinicians perform manual therapy techniques that can alleviate pain and/or improve mobility.
To ensure each patient completes his/her rehabilitation program safely and correctly, the same therapist provides individualized treatment and supervision every session.
Patient Education
Patient education is the key to a successful rehabilitation program. The more a patient understands their injury and takes ownership in his/her recovery, the better the outcome.
Our workers' compensation program also includes post-offer/pre-employment screens, functional capacity evaluations, work hardening and work conditioning programs, on-site training programs, and assistance with writing job descriptions and/or job-site analyses.
This information was obtained from marketing materials distributed by Phoenix Physical Therapy and Health Services, Inc.
Lauren C. Brennan PT, DPT is the Facility Director of Phoenix Physical Therapy Pine Grove. She earned her Doctorate of Physical Therapy from Lebanon Valley College in 2016. Phoenix Physical Therapy has employed her since 2016 working at both Frackville and Pine Grove locations.