"I went flying, and when I hit the ground, I immediately felt all my lower extremities just disappear. It was the weirdest thing." – Leslie Jefferson, Phoenix Patient
By: Allison R. Weder
In an instant, at 30 years old, Leslie Jefferson was paralyzed from the waist down. It happened in November 2020. Leslie, and a group of her co-workers, exhausted from months of COVID restrictions, gathered on a Maryland farm for an outdoor "friendsgiving" barbecue celebration. Everyone was very excited to get together and have a little normalcy and fun. Leslie and another woman decided to hop on a four-wheeler. Leslie thought they were just going to drive circles in a field, but the trip took a turn when the driver redirected into woods to explore some trails. They could see tracks from other trips taken, but they did not see the deep ditch that suddenly appeared in front of them. The massive impact sent Leslie flying. She recalls, "when I hit the ground, I immediately felt all my lower extremities just disappear. It was the weirdest thing. I was calm. I couldn't move, but I was able to find my phone." She called for help.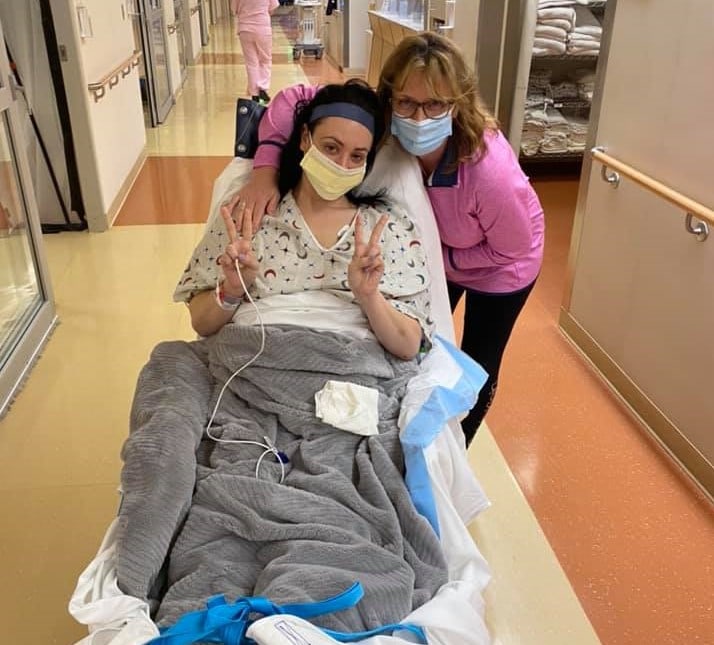 Leslie and her Mom, Julia, at the Shock   Trauma Center.
Leslie's next ten days were spent at the Shock Trauma Center at the University of Maryland Medical Center in Baltimore. That is where she learned she had a T12 spinal cord injury which affects lower body functions such as walking and bowel and bladder functions. People with T12 spinal cord injuries generally have normal, full functioning upper bodies, but her doctors were clear, Leslie would never walk again.
Leslie moved to the University of Maryland Rehabilitation Facility for 30 days of inpatient treatment. She remembers her time there was spent working toward goals set FOR her. The whirlwind schedule of learning to live life as a paralyzed person became overwhelming. "I didn't even have time to grieve. I lost my legs. I needed some time." And mixed up in the middle was the push to set up outpatient therapy once Leslie went home. Her case manager recommended a place she had never heard of. So, Leslie took the search into her own hands, doing research and reaching out to members of a spinal cord injury mentorship program she belonged to. She needed a clinic close to her home, one that specialized in spinal cord injuries and one that took her insurance. Based on a recommendation from a friend, she called Atlantic Physical Therapy, now part of the Phoenix Physical Therapy family, in Ocean Pines, Maryland.
Leslie recounts her first call to the clinic where she talked to Michele Herold. "I call her my fairy godmother. She fought for me even before I got out of (inpatient) rehab. From the beginning she made me feel comfortable. She said, 'we will do whatever we have to, to get you in here. We will figure it out. Just get here!'"
It took six weeks to get there, because a ramp needed to be built so Leslie could leave her home easily. In that time, she watched her body atrophy and the muscles in her legs disappear. It was devastating, but she did not give up and instead took control of her eating habits, ensuring her body had the fuel it needed to complete her therapy sessions once they began. When Leslie finally wheeled into the Ocean Pines clinic, she was unsure of what to expect. To her surprise, "everyone literally stopped and was so happy that I was finally there. Without even meeting me…having that kind of support from people you don't even know. I fell in love with them right away." Ocean Pines Clinic Director, Charles Curran, PT, remembers their first meeting. "Leslie has been highly motivated since day one. Having such a devastating injury, it would have been completely normal to suffer through depression and self-pity. Not once. (She) always had a smile and an attitude that said, 'what do we have to do next.'"
After Leslie's initial evaluation, the next step was to discuss goals. Leslie remembers, "They asked me, 'what are YOUR goals?' I never thought I'd get to make my own goals. I thought therapy made them for me." So, what was on Leslie's first goal list? "I wanted to be able to independently get from my chair to my bed without using a board. I wanted to independently go from my wheelchair to a shower chair. I wanted to do wheelies so I could get up and down curbs. I wanted to walk the dog without getting the leash tied up in my chair. And I have a 3-year-old. I wanted to lean over and pick her up without falling out of my chair." Charles and Wil Mozingo, LPTA jumped into action, helping Leslie quickly achieve her list, giving her some of her life back.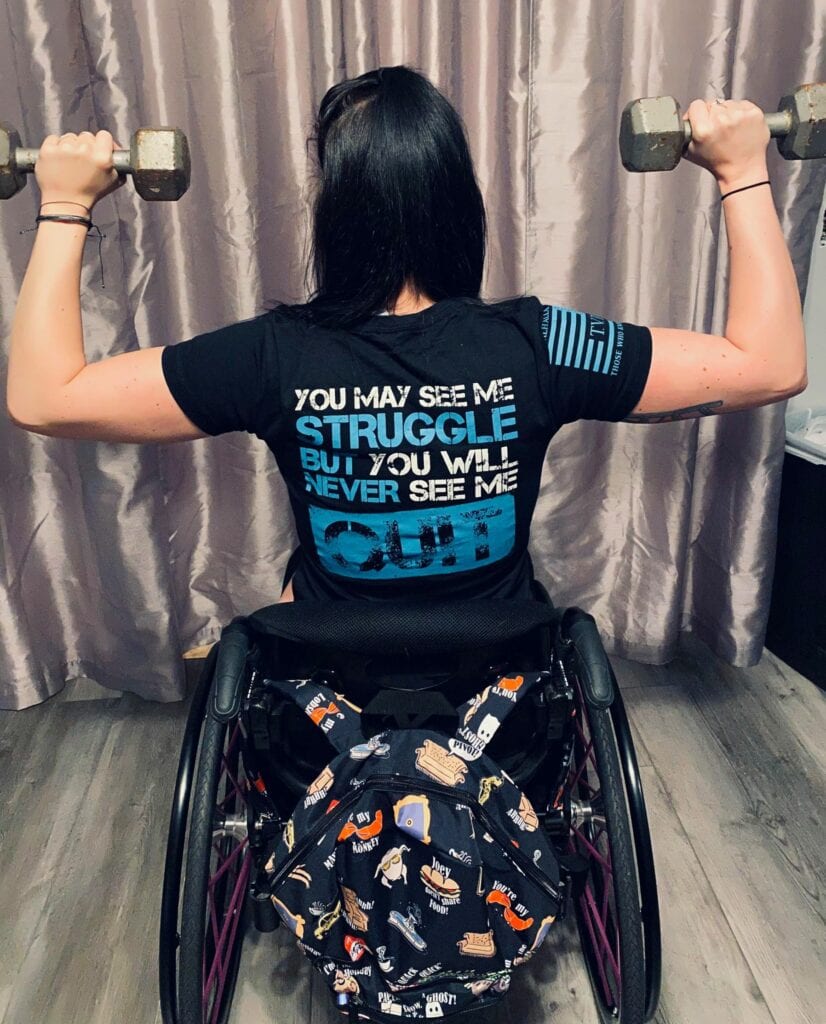 The sessions continued three times a week and with each session Leslie learned something that would enable her to get even more of her life back. Real life lessons. Leslie loves to tell the story about her first encounter with Nick Gerthoffer, LPTA, who told her she was going to sit on a big exercise ball and not fall over. "I got on the ball. I 100 percent fell over. But eventually I did it. I can't think for a second, when I will sit on a ball in real life but finding that stability on the ball connects with sitting on a bed and controlling your core. Nick was indirectly teaching me that I needed more trunk control."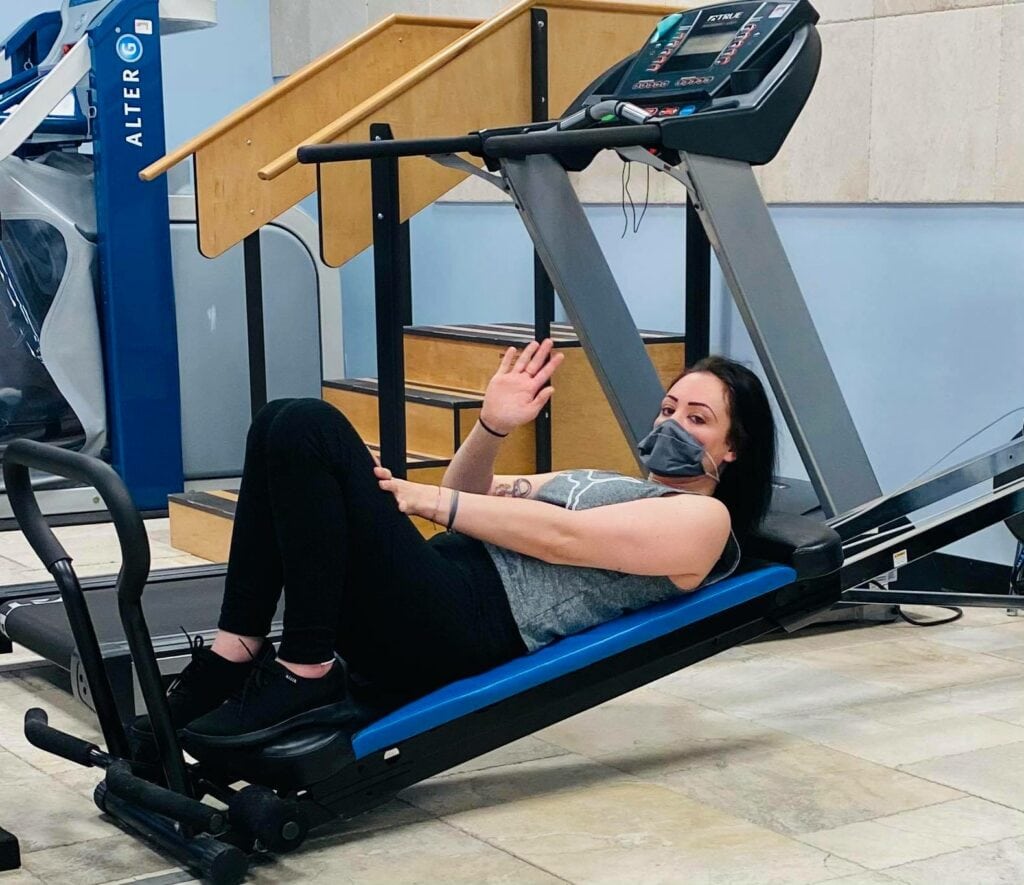 Then came a major milestone in Leslie's therapy. The clinicians at the Ocean Pines clinic decided to see if she could stand, something Leslie never thought she would do again. Leslie paints a picture of that day: "These three big guys come out and say we're just going to pick you up and see if you can stand. And it just snow-balled from there. I used the parallel bars. They put stuff around me to see if I could bear weight. Next thing you know, I regained feeling in the bottom of my feet! I cried; my mom cried. It was insane. We started doing that as part of our therapy."
The days of miraculous milestones continued for Leslie and her team, which included her mother, Julia Milford, who did not want to miss a single moment of therapy. Undaunted by what doctors told her, and on the advice of her therapists, Leslie tried assisted walking using the AlterG Anti-Gravity Treadmill. The innovative machine reduces the gravity's impact on Leslie's body, by holding her up by the waist in a bubble, allowing her to complete a walking motion using the muscle strength in her hips. "For me to physically see my legs moving was insane."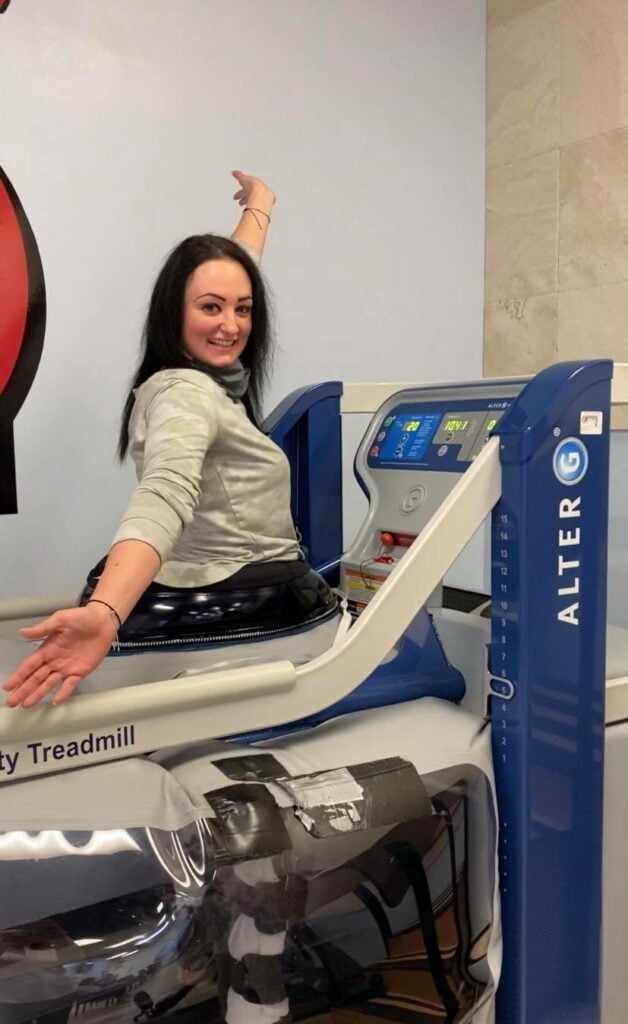 A mid-therapy re-evaluation even revealed Leslie is now able to move her leg to the side while laying down because of the targeted muscle work she had been doing since her first appointment. Wil Mozingo, LPTA sees her determination every session. "Leslie is one of the most dedicated, strong willed women I have ever known, she never backs down from a challenge." And that prompted Wil to take Leslie's walking one step further. "I recommended bilateral locking knee braces (to give her a sense) of her lower extremities when standing, and to put myself in better position to help with bilateral hip rotation. To my surprise as well as Leslie's, she was able to utilize her hip and slide her feet and take a couple of steps in the parallel bars." Those were the first steps on solid ground, Leslie had taken since the accident, and the miracles did not stop there. Leslie quickly learned to use that hip action to walk through the clinic, using a rolling walker. Her steps began on a straight path, but soon, she progressed to taking turns and trying different types of flooring. "Every time I move a part of my body, I start thinking about it. My legs are waking up thanks to everything my therapists have taught me. I don't feel like I have one therapist. I feel like all 6 people in that building, 100% of the time, are working for me."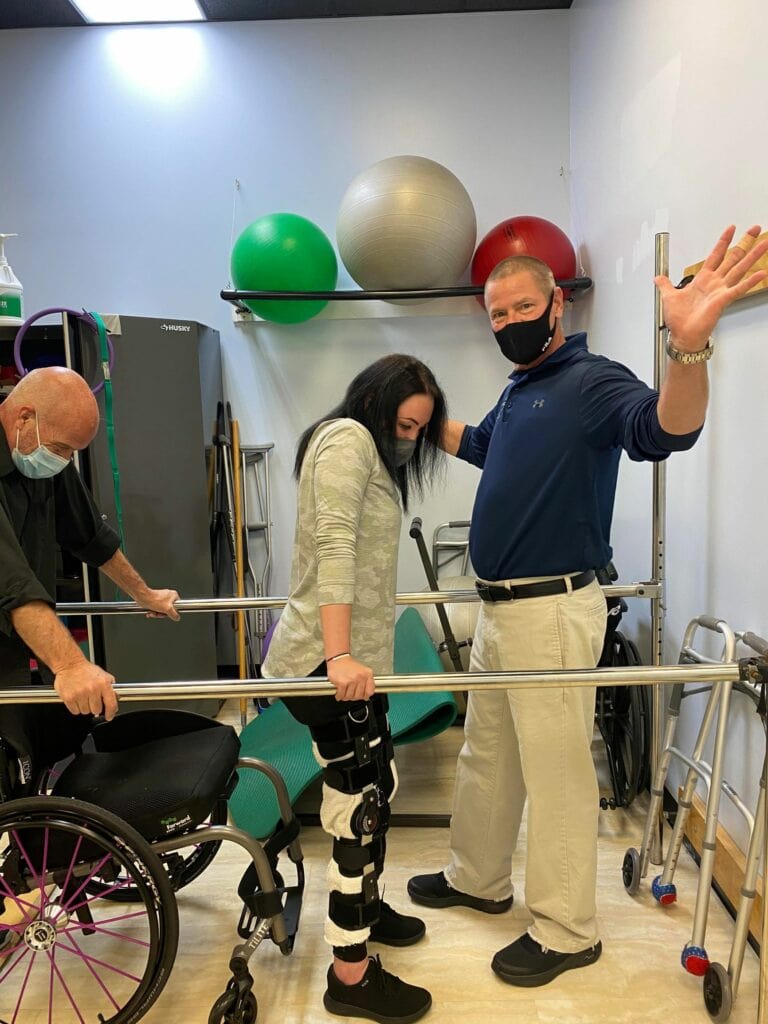 When asked about where she would be without her team at Ocean Pines Leslie says, "I seriously don't know. If I didn't have them, I don't think I would leave my house. I wouldn't be as comfortable being gone all day long. My being physically able to maneuver myself and having confidence in my wheelchair makes it where I'm not scared to leave. I have confidence to use a public restroom. I would have been miserable; I would have been withering away. And I wouldn't have been taking my life into my own hands. I have a 3-year-old daughter. I cannot afford to not live an active life. She's three I have to keep up with her and it's because of these people. They're like a true family. When you reach a goal, the whole building claps for me. I have a fan club! I never want to stop. I'm just thankful I can live this life."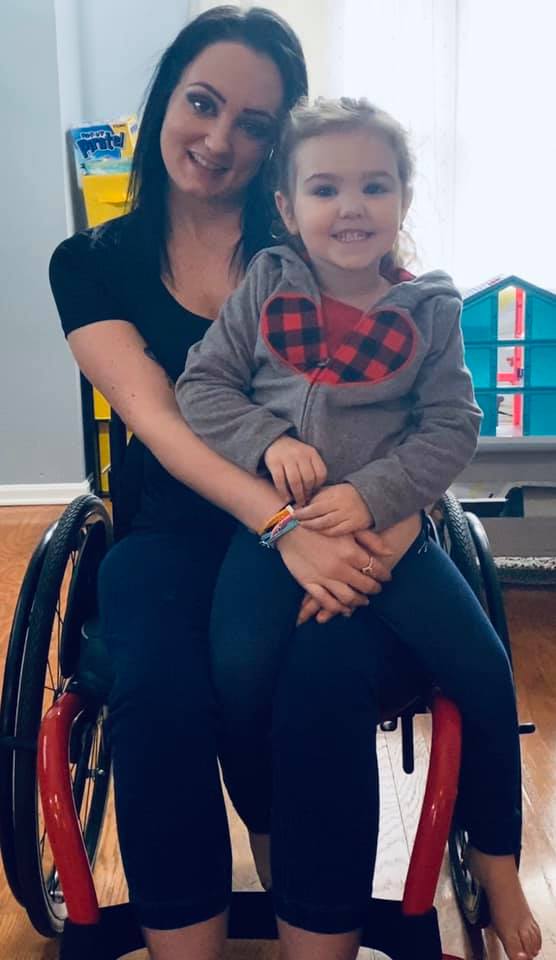 Leslie realizes attitude is essential to the recovery process. "My being super active, taking my nutrition into my own hands, winning at therapy, and then at home…I've learned not to limit myself." Leslie will continue her work with the Ocean Pines crew setting goals for herself, creating inspiring trails for other spinal cord injury patients to follow, and learning real life lessons from people she considers family.