By, Allison R. Weder
"You expect the pain. You expect that same old, same old pain. But then you get to the parking lot and realize: my hip is not hurting!" – Julia, Phoenix Patient
Julia is 73 years old with arthritis in both of her knees. She had been fighting the pain with injections of a fluid that acts as a lubricant and shock absorber for the joint. But then, Julia says her insurance company stopped paying for the shots. "(The pain) was getting worse and worse. I could only walk about 20 to 50 feet and then I would get shooting pain into my hip. I went to the doctor, and he said I was eligible for a knee replacement, but he wanted me to try physical therapy first." Julia's doctor also prescribed cortisone injections to go along with the PT. Julia was relieved. "I have a lot of physical problems and the thought of surgery is really frightening."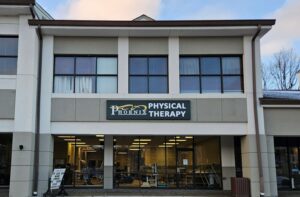 Julia knew she could choose her physical therapy provider. She chose Phoenix Physical Therapy after having a positive experience there ten years earlier. "I had adhesive capsulitis in both my shoulders. I couldn't move my shoulders at all. I chose Phoenix then and was very happy, and that's why I chose Phoenix this time." Julia scheduled an evaluation at the Phoenix PT, Scott Township location in Pittsburgh, feeling confident they would have the expertise to help her. "On my first visit, I walked through the door, and I was met by (Patient Care Coordinator,) Darla (Hauser). She is a wonderful woman. She knows what she's talking about as far as setting up schedules and she has a good sense of humor. She got me set up right away." Up next, Julia met with Clinic Director, Jim Mousadis, PT, MPT, who created a plan just for her, taking her goals into consideration. Julia wanted to walk longer distances and focus on her balance.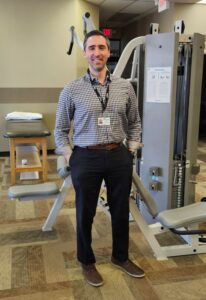 Julia worked hard at each of her sessions completing a variety of exercises aimed at strengthening her muscles and increasing her flexibility. Julia remembers how Jim adjusted her plan depending on how each exercise felt. "Jim would say, 'if this causes any discomfort let us know right away.' Sometimes it hurt, and they either modified or changed (the exercises) for me. I had one of the therapists talk to me and say, 'you need to be up higher on that table to work on that ball with your foot.' So, they watch and make sure you are doing it right. They all know what you are up to. I never felt alone."
The exercises continued each week, building on what Julia had done the week before. "They were trying to build up the strength in my knees. I did a sidestep where they would put an elastic band around my knees, and I'd walk to the side. My hip was screaming, but it was good for my balance. Then, I would go up on a step. I'd have to hold onto the railing next to it. My last session there I did all the steps that I was supposed to do without holding on to the railing. I could not believe it." Julia could feel the progress throughout her physical therapy journey. "After my second session, I noticed a marked difference. It was a combination of the cortisone shots and the physical therapy. And then, I just kept feeling better and better."
Julia knew her time with Jim at Phoenix was coming to an end. But she also knew the hard work she had been doing needed to continue at home. "They gave me printouts of all the exercises I do so I could take them home with me. I do three or four each day. There are 8, so I rotate. I want to be able to do the things I used to do. I may not be able to do them as well, but I still want to do them. I want to be able to walk longer distances. I gave up going to the shore with my sisters and daughter because I couldn't walk on the sand. I couldn't walk to get into a restaurant. I gave up going to dinner. I want to avoid surgery." Julia believes she will get back to doing all the things she loves to do now that she has the right tools to keep her body strong.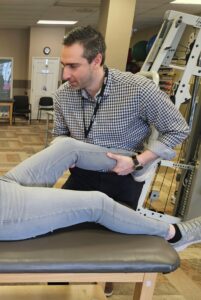 Jim knows her determination will help her succeed. "From day one, she always had a positive and optimistic attitude, not only with her rehab, but everything in her daily life. She was always so appreciative and complimentary of everything we did for her. Her positive attitude and good effort were contagious in the PT gym!"
Julia says the best result of her Phoenix experience is not about being pain-free. "I feel safer and more confident. I'm actually going to start parking further away from the door instead of in the handicapped spots. I'm also going to go to the mall because it has been a while since I've been able to do that. I couldn't walk that far. I've already been to Walmart to buy cat food and cat litter. I got in and out without any pain. It takes you by surprise. It's something you realize afterwards. Oh my, I did this! You expect the pain. You expect that same old, same old pain. But then you get to the parking lot and realize: my hip is not hurting!"
Julia is grateful for everything the Scott Township team has done for her. "All the staff were very kind. I have some memory problems and they were willing to explain things more than once. In addition to being kind they were very patient with me. I cannot sing their praises enough. They were so good to me. They're just very nice people in addition to being good Therapists."
So, what is Julia's advice for those who are nervous about trying physical therapy for the first time? "Suck it up! Go! Once you're there you will see. We all tend to make things worse in our head than it really is. Take a deep breath and go. The benefits far outweigh any fear you might have. I'm just very pleased with Phoenix. I would recommend them to anybody."