By Allison R. Weder, April 2021
"She is a complete miracle, and someone was watching over her that day." – Lindsay Strouphauer, Hayden's Mom 
Life changed for the Strouphauer family on January 10, 2019. The bedtime peace in their Pennsylvania home was shattered by a horrendous thud in 3-year-old Hayden's room. Lindsay, Hayden's mom knew right away what happened. A dresser, with a box TV on top, fell on Hayden. Hayden's father, Brandon, a Second Assistant Fire Chief with the Pine Grove Hose, Hook and Ladder Fire Company, leapt into action. He moved the heavy furniture, called for an ambulance, and began checking Hayden for injuries. Hayden was crying, but her pupils were not dilating. She was reacting, but SHE was not there.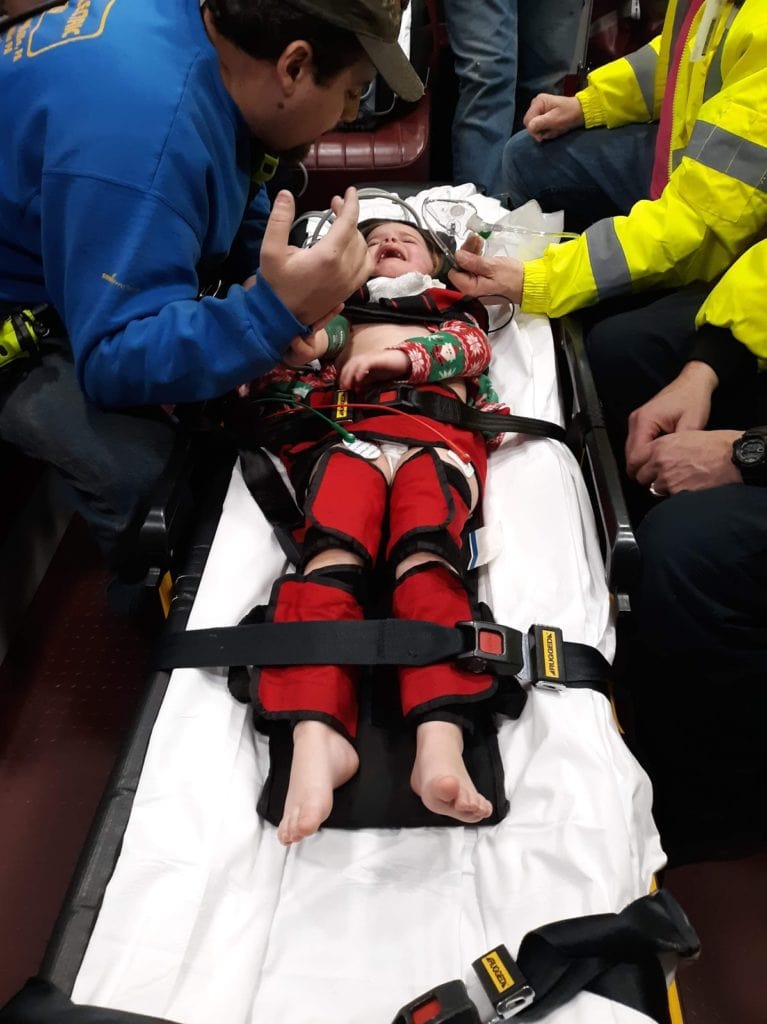 Hayden with her father, Brandon in the ambluance.
Testing began immediately after a helicopter rushed Hayden to a hospital in Danville. There was bleeding on Hayden's brain and no sign of frontal lobe activity. The frontal lobe is responsible for a person's personality, cognitive skills, and motor skills. It was devastating news for the Strouphauer family who were still waiting to see the full extent of Hayden's injuries. After an agonizing seven hours, Hayden became responsive again and opened her eyes. Unbelievably, she recognized her family, and her short-term and long-term memory were intact! Lindsay recalls, "She seemed like Hayden." But quickly, that elation turned to concern when she asked to use the bathroom. Hayden could not walk or put any weight on her legs. X-rays and scans showed no broken bones or muscle damage which forced doctors to circle back and blame the traumatic brain injury or TBI. Over the next few days, doctors monitored the brain bleed. Nothing changed, which was good, but now it was time to look ahead to the recovery process to see what Hayden would be able to learn to do again and what the lifelong effects of the accident would be. It was a waiting game to see how and IF her brain would heal.
Within weeks of the accident, Hayden needed occupational therapy, and physical therapy. Lindsay began searching for the right place for Hayden's rehab. The facility needed to be close because Hayden would become nauseous on long car rides. The good news? Phoenix Physical Therapy had just opened a clinic in Pine Grove, minutes from the Strouphauer's house. The bad news? The clinic could not accommodate pediatric patients. After several phone calls and some of what Lindsay calls "begging", Lauren Brennan, PT, DPT agreed to work with Hayden. Lauren was a little worried given the clinic was only setup for adults, but she wanted to help.
The physical therapy evaluation was tough on Lindsay. It required her to see what Hayden could no longer do. "I was very doubtful. I did not think PT would fix her. I thought it would help us learn the 'new way' with Hayden and accommodate her." Lauren remembers, "She was unable to walk or bear weight on either leg. She presented almost like she regressed to being an infant." On day two of PT the hard work began, and Lauren told Lindsay they were going to teach Hayden to walk again. As Lauren addressed the physical issues, she became aware she would also have to navigate the effects the TBI had on Hayden's personality. Hayden got angry and frustrated easily. She would pull out her hair and scratch herself until she would bleed. That is when Lauren's creativity kicked in. Hayden's therapy sessions became a game. Lindsay describes a session: "They did a lily pad thing where Hayden would jump from lily pad to lily pad. She was playing while she was learning. She looked forward to seeing Lauren. They had an amazing relationship. I'm so grateful she took that leap and took a peds patient."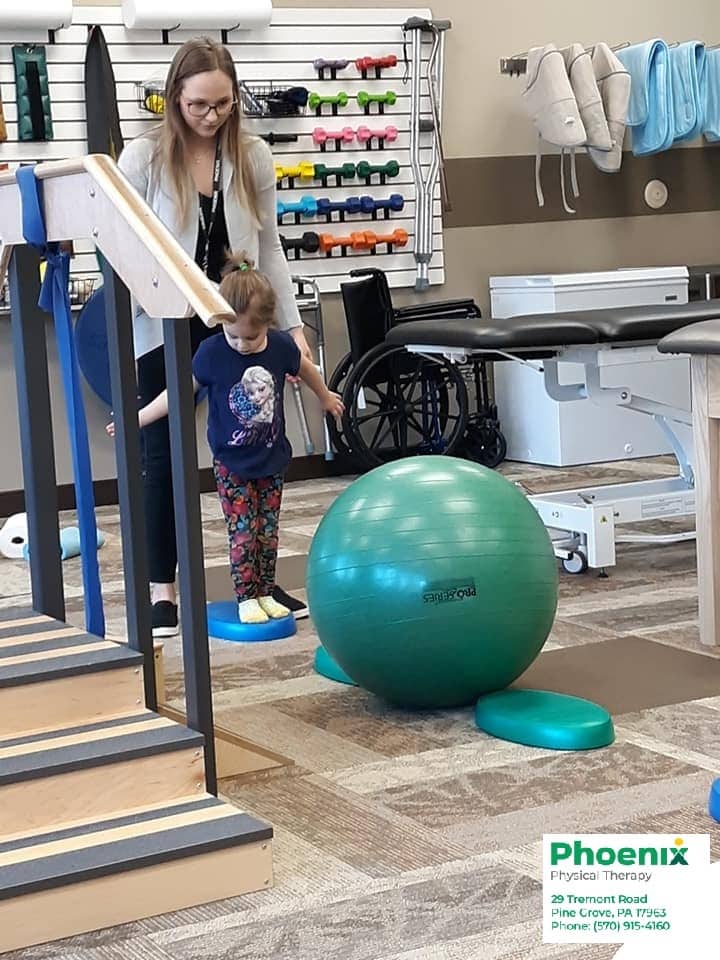 Hayden walking with Lauren Brennan, PT, DPT.
Lauren used yoga techniques to work on Hayden's balance and created innovative plans that would engage Hayden in fun activities without her even realizing she was learning to walk again. When Hayden remembers her time at Phoenix she says, "It was super fun, like a playground but inside!"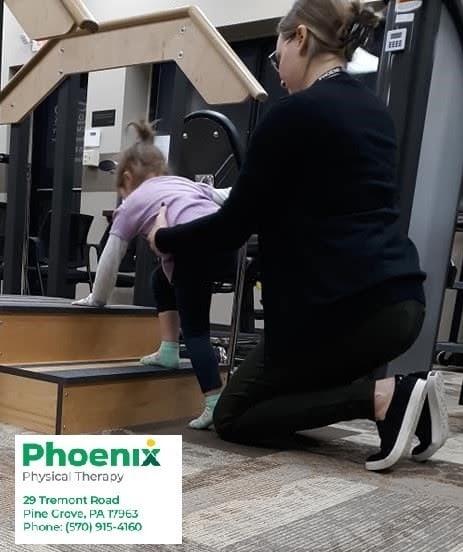 Hayden working on straits with Lauren Brennan, PT, DPT.
Within a month, Hayden was walking again. Walking turned into stair climbing and then running. Lindsay remembers, "Every session we had, I felt we made progress. Little steps. Every time we left there was something she could go home and show Dad. I truly think that Phoenix and Lauren, specifically, is the reason that Hayden can walk, and the reason Hayden has regained her balance and learned to run and has become a kid again. We've deemed Lauren a miracle worker." Hayden agrees saying, "Lauren did magic on my legs and made them behave right!"
After about 3 months, Lauren felt confident Hayden could safely walk and run again, "She made a full recovery from a mobility standpoint. She is a resilient, strong little girl!" Hayden went on to kindergarten in the Pine Grove Area School District where her teacher, Shandra Allar, went the extra mile to help her assimilate and succeed. She even took a concussion class to learn about TBI and the effects it could have on Hayden's learning. Hayden's family is grateful for all the support they received since the accident and choose to pay it forward. Each January, near the anniversary of her accident, Hayden and her family pick an organization to help. In 2021, Hayden sold awareness ribbon keychains to raise money for the Hope for Kids Fund. The organization was founded by the teachers at the Pine Grove Area School District after several students needed a helping hand. Hayden raised $65 for the fund, an amazing amount for a kindergartener. The selfless act even made her a television star when a reporter told her story on the local news.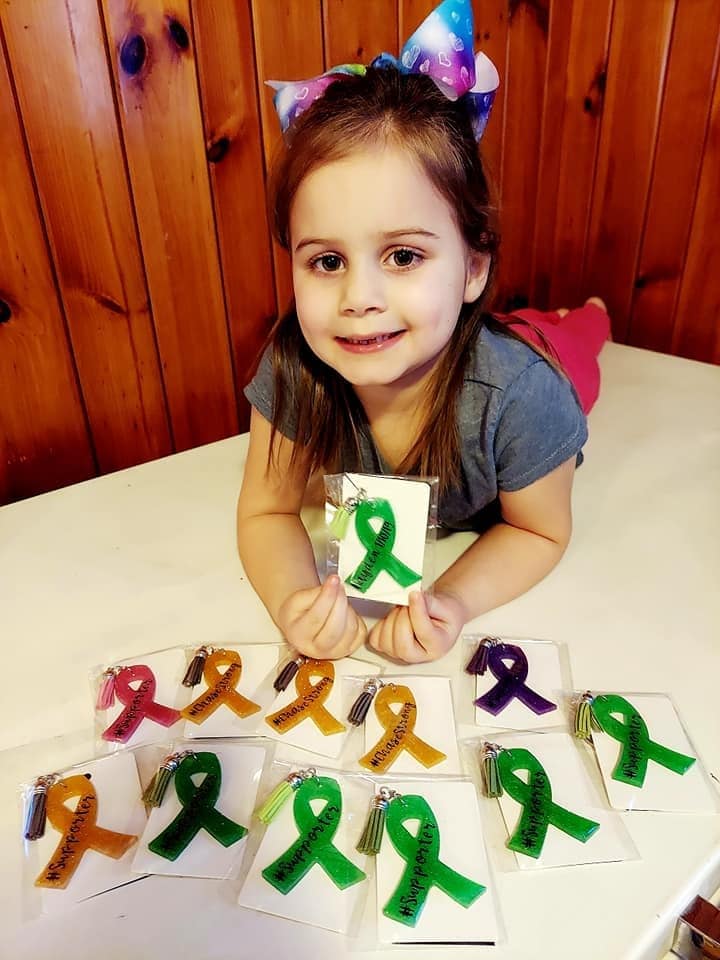 Hayden raises money to help other children.
The Strouphauers are now part of the Phoenix family, and Lauren is now part of the Strouphauer family. Lindsay trusts Lauren for her physical therapy needs and so does Hayden's great grandmother. Lauren buys girl scout cookies from Hayden's older sister and is a sponsor of an annual 5K hosted by Brandon's fire company.
"The care that Hayden got with Phoenix and Lauren is nothing I can ever put into words. It was amazing, above, and beyond. Just to accommodate her physical and mental state. You're not just taking on a patient you're taking on a family."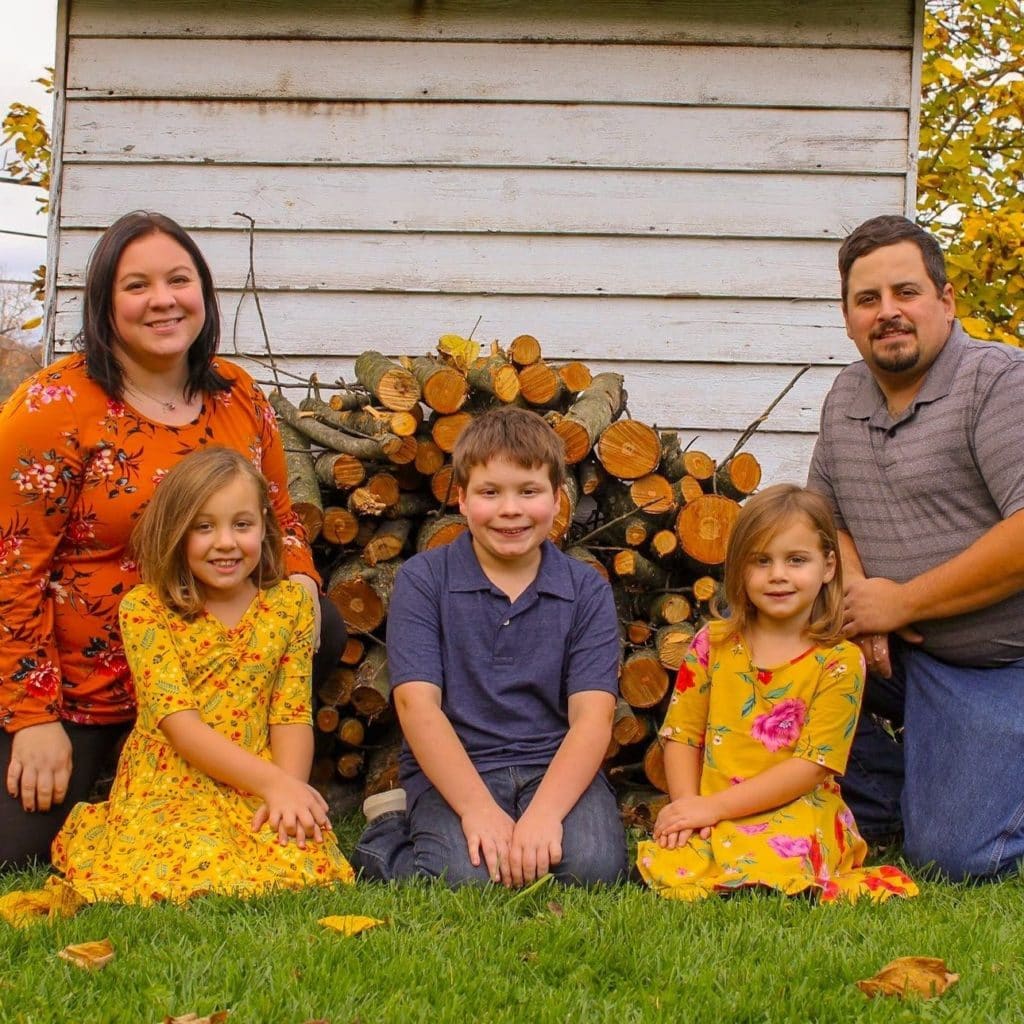 Hayden's family.
Hayden's future is bright. Lindsay says she will always have to worry about the possibility of another brain injury and Hayden may continue to struggle cognitively, but she is quick to say, "We are happy with our Hayden!"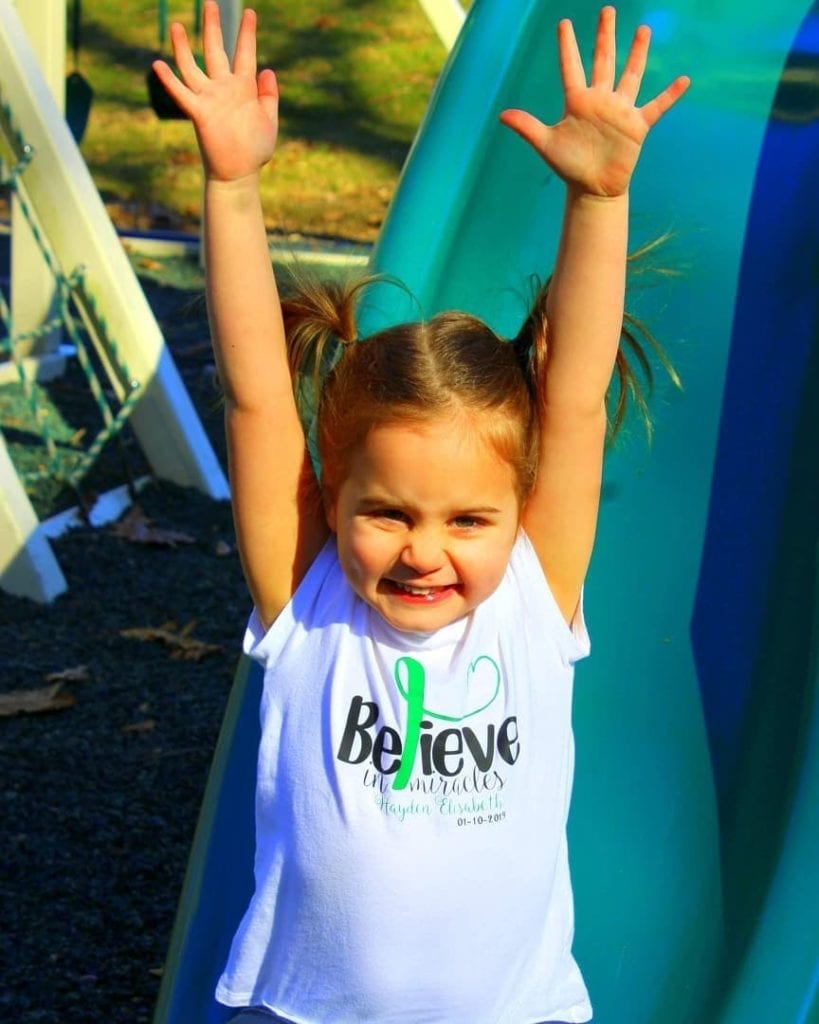 Hayden just being a kid!