By, Allison R. Weder
"I would have never dreamed at my age I would be here. Purely by accident, after back surgery, it got me here. To excel at my age is fun." – Michael Stewart, Advanced PT – Flint Patient
In 2018, Michael Stewart was an avid runner, participating in races for 40 years. But an injury required him to go through spinal fusion surgery. Michael's doctor said he could not return to running for a full year, post-surgery. Michael remembers the disappointment. "At that point, I had already run 35 Crims and I didn't want to take a year off." The Crim Festival of Races is held every year in Flint, Michigan. Thousands from around the world converge on the city to run and walk the prestigious 10-mile road race.
After his surgery, Michael was motivated to get back to the sport he loved for four decades. He successfully completed post-surgical rehabilitation at Advanced Physical Therapy Center, part of the Phoenix Physical Therapy family, in Flint. He followed every instruction from his doctor who said he could walk as much as he wanted, to stay in shape as he waited to run again. He even decided to train to walk the 2018 Crim to keep his streak alive. It was during that training, he learned about racewalking. "They had someone teach a class, and I got involved. I watched videos and read books and really enjoyed it." What is racewalking? It is much more than just walking fast. Michael describes the action. "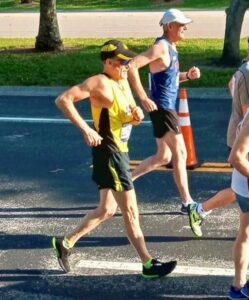 In racewalking you must always have one foot on the ground and the heel hits the ground first. You cannot bend your knee until you are in the vertical position." Racewalking is also different than powerwalking, which many may be more familiar with. "Powerwalking differs in that you can have a slight bend to your knee. They brought powerwalking to the Senior Olympics because not a lot of seniors could keep their leg straight. The biggest thing is I do not get hurt. Racewalking is a low-impact sport; running is high-impact. Apparently, I'm really good at it, so I'm sticking with it!"
'Really good' is an understatement. Michael quickly became one of the best racewalkers in the country in his age group. "When I first started out, my very first race, I won first overall for the men. I was excited! I didn't think I could walk that fast. I won my second race also." Michael's first Crim post-surgery as a racewalker? He placed second in his age group with a 10-mile time of 2:01:34! This was just the beginning for Michael. "I want to get to 50 Crims. If I just stuck with running it would have been hard. Older runners are beat up. I look at older racewalkers and some of these guys are still going really good and they don't look beat up."
Michael began looking ahead by setting some loftier goals. One of the largest was to make it to the Senior Olympics. Over the next several years, his training continued. His dream of competing for Olympic gold came true when he qualified for the 2022 Senior Olympics in Ft. Lauderdale, Florida after participating in the Michigan Senior games. In the months leading up to the games, Michael noticed some twinges and tightness in his back. "I blamed myself. I'm usually really good at sticking with my at home exercises, but I got away from them. I went in for an assessment and the Physical Therapist said you are really tight. I went back and they started on me again." Michael knew the experts at Advanced PT – Flint could help get him back on track as he planned his trip to the Senior Olympics.
A typical session for Michael included a quick stationary bike warmup. "Then I was doing a lot of stretching of my shoulders and hips. Then, I started doing weights. I used the kettle bell, did squats, and did the balancing table. That was helpi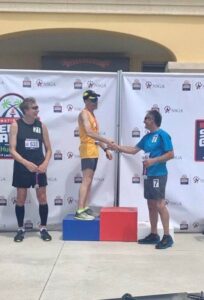 ng me. It is where you are on all fours – then lift your right arm and left leg and then switch. That was a big one for me. I could really tell it was working. Many of the exercises were simple, but they were so effective." Michael began noticing a difference in just a few weeks. "I could tell I was getting stronger. Little by little I was getting better. I started therapy in March. The Senior Olympics were in May. I relied on Advanced PT for fine-tuning (ahead of the big event)."
That fine-tuning worked! Michael competed against the best in the country in four races in Ft. Lauderdale. He placed fourth in the 1500-meter racewalk. He won silver in the 1500-meter powerwalk. And he won another silver in the 5K racewalk. Michael's friend Kevin was also participating in the fourth race, a 5K powerwalk. Michael took the opportunity to perform a selfless act. "Kevin had never medaled before. His whole family was there to watch him. I'm faster than him, I know that. So, I said, come on Kevin, I'm going to pace you. At the end, I slowed up and let Kevin win the silver. I won the bronze. His whole family was so excited. It was great."
Michael plans to keep up with his at-home maintenance exercises and keep Advanced PT as part of his training team. "I learn a lot each time I go. Every therapist I had is a little bit different but each one is good. I can communicate with them. If I'm a little sore here or there, they come back with new exercises to try to fix each issue. I've been to a couple other places. I like Advanced better. Everyone is great. They know what they are doing, and they like their jobs."
Michael's next adventure is to compete at the Worlds in Poland, which he is already qualified for. "I would have never dreamed at my age I would be here. Purely by accident after back surgery that it got me there. To excel at my age is fun."