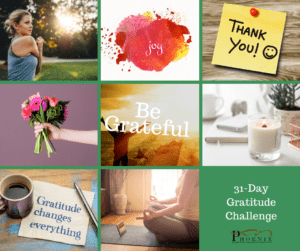 Throughout the month of May, Phoenix team members will participate in the Gratitude Challenge. During the month, we will reflect on the topic of gratitude, take time to consider all that is good in our lives and show our appreciation towards our family, friends, colleagues, patients and communities.
We hope you will join us in this challenge! Best of all, it is easy to do.
We have created a guide and calendar to give you ideas to work from as you go through the month – request your copy by emailing marketing@phoenixrehab.com. By the end of May, you might love the ideas so much that you repeat the tasks the rest of the year. Follow us on Facebook and Instagram as we share photos of our team participating in the activities. Together, we can spread positivity and kindness when it's needed most.