By, Allison R. Weder
"My recovery would have taken two to three times as long, for sure. And who knows if I'd be back to where I am now. Sometimes you don't fully recover. Talk about a scary experience!" – Elisabeth Davis, Robesonia Patient
Elisabeth Davis has a passion for cycling. "I started on a Peloton and when the weather got nice I said, I want to be out there!"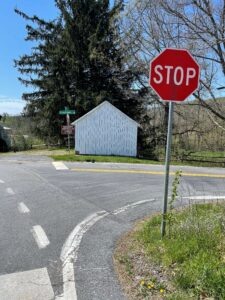 Liz quickly made the transition to outdoor riding and decided to start doing group rides with other cyclists. "I love it. I love the longer rides. It's nothing for me to do 60 miles on a Saturday." A 100-mile ride in early September, that started in Maryland, looped through Pennsylvania and back into Maryland, caught Liz's eye. She and a friend decided they would take part in the unique event, but 20 miles in, Liz crashed. "I believe I was drafting my partner and I hit his back wheel. It threw me from the bike." Liz doesn't remember exactly what happened next, but she does know falling off a bike going 15-20 miles an hour did some major damage to her body. Liz is quick to point out however, had she not invested in good helmet technology, things could have been much, much worse. "When I fell off my bike, my head hit the ground and I skidded to a stop. You could see the skid marks on the helmet." But it was the inside of the helmet that told the real story. The Trek helmet was still under warranty and when Liz returned it to the store, the woman behind the counter said, "you broke all the wave cell technology inside. You destroyed this helmet."
The top-of-the-line Trek helmet likely saved Liz's life, but she still suffered a severe concussion. Liz recalls, "I have no memory of being in the hospital, except for when the doctor told me I was released I asked, when can I ride again? That was it." The doctor simply said, "when you start feeling like yourself again." Liz followed up with her Primary Care Physician a few days later. "But I don't remember our conversation. He wrote on my paperwork to make an appointment with a Neurologist. He didn't talk about not working or taking some time to rest. Maybe I looked normal, but cognitively I was not. I barely remember anything from the week after my accident. I remember my adult son calling and asking me if I remember talking to him. I said, no." Liz tried to work the Tuesday after her accident. She spoke with one of her co-workers who pointed out that she had told her the same story three times. Liz knew then something was very wrong, and she needed to rest. She took the rest of the week off and called a Neurologist. Unfortunately, the Neurologist was booking appointments two months out, so she tried to get back to her life in the meantime.
Liz completed a short bike ride exactly one week after her accident. "I was totally fine during the ride, but when we stopped, my friend said, 'hey, wait, don't cross the street yet.' I didn't get my foot out of the clips fast enough and I fell over into soft ground. I knew not to hit my head. I protected my head, wrapped my arms around it and hugged myself." But the fall did exacerbate an injury from Liz's first accident. She had significant pain in her collar bone and noticed when some of the swelling went down, her left and right collar bones did not match. Several doctor visits and x-ray's later, Liz learned not only did she completely fracture her collar bone, but she also had 2 fractures in her elbow, which had gone undiagnosed since the first accident. Surgery was not an option, so the next step was to let her injuries heal.
A trip to a cycling event in Harrisburg pushed Liz to the next step in her recovery. She visited a tent set up by the Phoenix Physical Therapy – Harrisburg team. She asked about whether physical therapy would help rehabilitate her body after her broken bones heal. The Phoenix team assured her PT could help. Liz remembers wishing the Harrisburg team was closer to her home. "They were really nice, very courteous. I would have liked to work with them, but Harrisburg is too far. But when I was out driving one day, I recognized the sign. There was a Phoenix Physical Therapy in Robesonia, right down the road!" Liz called the Robesonia clinic and explained what happened. She knew she'd have to wait several more weeks for her bones to fully heal to start physical therapy, but she quickly learned her concussion could be treated immediately. "I had no idea physical therapy could help with a concussion. It was very emotional for me because I felt helpless. I was very overwhelmed."
Liz went in for an assessment and discovered the situation was worse than she had thought. Baseline testing revealed significant issues with her brain function. Liz was scared. "I'm an insurance professional, I need my brain. It's eye opening. I was worried about my job and worried about being able to care for myself." Robesonia Clinic Director, Mike Bartolomucci, PT, DPT completed her baseline testing. "We were able to immediately start care and track progress using our Advanced MAC Concussion cart in which an Eye Guide and Impact Test were completed in addition to an extensive physical therapy evaluation." Mike explained to her how brain training works. The plan includes exercises and weekly testing. Liz felt reassured. "He said, 'your brain will heal at its own rate, but we can measure your progress.' I was so grateful to everyone there."
Liz began working two days a week to heal her brain. "A lot of your cognitive ability, or ability to make sure you don't put yourself in another compromising position, is to make sure you have balance. So, we did a lot of exercises on balance boards and a big ball that you would have to sit on. I had to walk and hold an object, and move that object from side to side and focus on that object without losing my balance. We put sticky notes on the door, and I had to keep my head straight but move my eyes up and down, left to right. The goal was to get my eyes working together again." Liz also completed these exercises at home to further her progress. Mike was impressed with her recovery. "Through emphasizing coordination, balance, memory, and activities to improve oculomotor deficits Elizabeth made steady progress surpassing expectations." After more than three months of hard work, Liz asked Mike about whether it was possible her vision had changed. "Mike suggested I go to the eye doctor, saying my vision had likely stabilized and wouldn't change much more. I got a new pair of glasses. And the glasses were the final step. Once I got my glasses it felt back to normal. I graduated!"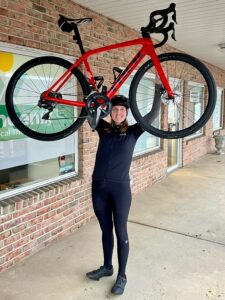 Liz began to rehabilitate her collar bone and elbow during the last few weeks of her concussion therapy. She found she needed to rehabilitate her whole body, not just the areas where she broke bones. "When you work one part of the body, it affects other parts of the body. I had a broken collar bone and that impacted my shoulder. (Mike) incorporated exercises to help build strength in my arm and shoulder to support my movements. I received massages to increase flexibility. I remember laying there one time and they could feel the tight spot. I could FEEL the pain and they knew right where to touch. Then I could feel the muscle release, and wow! They said, 'there you go!' It was amazing." Mike is proud of what Liz accomplished with the help of his Phoenix – Robesonia team. "Elizabeth again, made steady improvements with mobility, range of motion, strength, and overall function. Through progressing physical therapy along with an advanced home exercise program Elizabeth met all her goals. Elizabeth is now back on her bicycle and able to perform all work-related tasks without limitation. It was an extremely rewarding experience being a part of Elizabeth's success story. Happy Cycling!"
And cycling is what Liz plans to do. "I've already signed up for multiple rides. Even though I'm an older cyclist my goal is to be the best that I can be and continue to improve. I have children, and for me it's always been about leading by example. Just because their mom is old, doesn't mean she can't do things and live her best life. You have to take care of yourself. You're only given one body."
She also plans to advocate for increased concussion education. "So much of concussion protocol is geared to children and sports. Not much is geared toward adults. Most physicians probably don't know how to deal with people like me. Even though I didn't know there was therapy for head injuries, I was proactive and knew enough to make a phone call. The (Robesonia) team knew I could benefit from therapy. My recovery would have taken two to three times as long, for sure. And who knows if I'd be back to where I am now. Sometimes you don't fully recover. Talk about a scary experience!"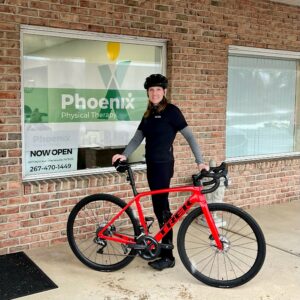 Liz describes why she is happy with her choice to call Phoenix that day. "I'm in customer service. I know how important it is to make connections with people. Let me just say, I felt like I was visiting family. Yes, they put me to work, and wouldn't let me coast by, but they were like family. I really miss them. I really do. They've given me the quality of life back that I need, that I want, that I deserve. Trust me when I say, if ever another need like this arises, I'm not even going to look at another facility, I know where I'm going to go."
Liz encourages everyone to try physical therapy. "You only get one body. You only get one brain. It is so important to make sure you are taking care of yourself so you can live your best life. An injury, in my opinion, can impact the quality of your life for the rest of your life. You have to take care of it. There are things you can do to make it better, even fix it completely. Why would you not do that for yourself?"
Liz emailed to tell us, "I went back to Maryland last Friday to complete the ride I fell on in September. I finally feel like I can close the loop on this unfortunate accident." Congratulations, Liz! We are all so happy for you.