By, Allison R. Weder
"It's scary to think at one minute you have everything and within minutes it's all gone, and you can't do anything." – Lynn Lundgren, Waterford, MI Patient
In an instant, life changed for Lynn Lundgren. The car she was driving was broadsided by another car, leaving her with major injuries. "I broke my left hip, my left wrist, my right ankle and I had four fractures in my back. He hit me on the driver's side." Lynn had so many injuries, her broken ankle went unnoticed until her hospital Physical Therapist became concerned when she couldn't walk. An X-ray revealed the break and Lynn was in the operating room within hours. Lynn spent days in the hospital as doctors worked to make the initial repairs to her broken body. Her hip was so badly damaged, it needed to be replaced.
Once the surgeries were complete, Lynn transferred to an inpatient facility to recover. There she had a taste of physical therapy and occupational therapy. She considered that experience a success. But then came time for outpatient PT and OT. Lynn chose Advanced Physical Therapy Center in Waterford, Michigan, now part of the Phoenix Physical Therapy family. Lynn recalls her first thoughts about the next move in her recovery plan. "I had no idea what to expect. I thought it would be a piece of cake again. I'm so glad it wasn't because the improvement they made in me in such a short time is amazing. It was hard."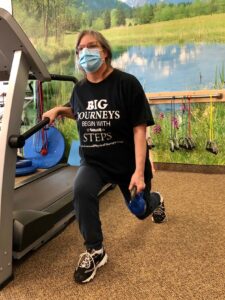 Lynn arrived at Advanced PT-Waterford with a walker, a boot on her ankle and braces on her wrist and back. She needed physical and occupational therapy to help her get back to living life normally again. In OT, her therapist would massage and stretch her hand, wrist, and arm. There were exercises for which Lynn had to put pegs into holes and place clips onto a metal pole to improve her strength and dexterity. Lynn calls another one of those exercises "the box of torture." An Occupational Therapist would tell you the exercise involves a box filled with rice grains and safety pins. The goal is to pick out each safety pin, separating it from the grains of rice, with your eyes closed. It is not as easy as it sounds!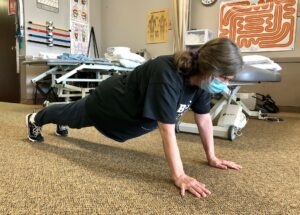 In PT with Jill Heberling, LPTA, Lynn used the NuStep reclining bicycle and the treadmill. There was stretching, balancing, and flexibility exercises. When asked what was the hardest thing? Lynn responds, "Nothing really. Everything they asked me to do, I've been able to succeed at. I hated planks, but I can do planks now! I'm proud of myself for doing them. It made me feel GREAT! It made me feel accomplished, really good and I'm thankful that they worked with me so hard to get me where I am right now." Jill looks back on her time with Lynn. "Lynn was determined from the initial evaluation to get back to her normal life. Within a few visits, she was often encouraging other patients to work hard to achieve their goals. She went from barely being able to walk into the clinic, needing assistance at home and in a great deal of pain to walking on the treadmill, squatting with weight, and completing tasks at home without assistance."
Lynn is quick to point out, some days were especially tough for her, but she soon found out she was not alone. "They're not only therapists, they're like psychologists. I came in so many times, not in it. I was a mess. Jill just sat down and talked to me. We took it easy, and I felt so much better. I didn't expect that."
Five months after entering the Waterford clinic, Lynn arrived at her discharge day. "I couldn't take a shower by myself. I needed to learn how to eat right-handed. I wasn't weight-bearing so I could walk. I couldn't sleep in bed. All I could do was sit. I can do everything now! I'm back to my life!"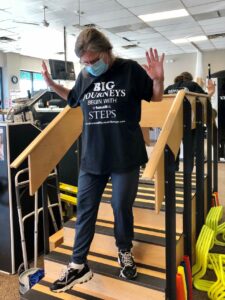 Lynn plans to visit the Waterford clinic regularly. "I'm sad. I don't want to stop. These people have become my family. I've been here since June. I look forward to coming here. I always tell people, they're really nice when you first get here, and then they get tough. But it's a good tough. I wouldn't have been anywhere if it hadn't been for them. I just can't say enough about this place and people who work here. They actually care." Jill Heberling, LPTA feels the same about her. "The entire staff grew close with Lynn, and we are all very proud of the work she put in during her physical and occupational therapy."
Lynn also plans to offer her time to help other Advanced PT patients who may be facing a long road to recovery. She hopes by talking about her journey, she can help others the way another Advanced patient helped her. She met Ken Taylor at the Waterford clinic during one of her first visits. "I never was afraid once I met Ken and heard his story. It made things easier. We've all become family." If you'd like to talk to Lynn, call the Waterford clinic at (248)618-3050 and we will put you in touch with her.