By, Allison R. Weder
"While riding my bicycle, I saw this truck coming right at me. He wasn't slowing down!" On May 2, 2020, Kris Theoharis was thrown from her bicycle, severely hurt, needing to be medevacked to Christiana Hospital's Trauma Department in Newark, Delaware. Dennis, Kris' husband, who did not find out about the accident until hours later was told she was stable at that time, but later learned, upon her arrival to the hospital, her chart listed a much scarier phrase: in extremis. The definition of in extremis? According to Merriam-Webster: in extreme circumstances; at the point of death.
Kris is a fighter and survived the accident that left her with a broken femur, a compound fracture of her tibia and fibula, and many other injuries that kept her in the Intensive Care Unit for five days. Surgeons were able to piece together the broken bones in her leg with metal rods and pins. Kris realizes now, "I am lucky to be alive, and they were able to save my right leg! I am very grateful for that!"
After two and a half weeks in the trauma center, Kris was able to move to inpatient rehabilitation where the long journey to regain her mobility would begin. Kris is quick to say she was motivated to begin the rehab process and looked forward to the challenges and exercises. She stayed very focused. After three weeks at the facility, she was sent home and was ready to start immediately with her outpatient therapy sessions. Her husband, from his own PT experiences, knew the best place to go and filled her schedule with appointments at Atlantic Physical Therapy, now part of the Phoenix Physical Therapy family, in Selbyville, Delaware. Kris and her husband had been to the clinic before and knew that Bobby Hammond, PT, DPT, Dominick Policare, PT, DPT, Deandre Gordon, Physical Therapy Technician and the rest of the team would take excellent care of her. "On my first day at PT, every single person who would work with me came out to my car to greet me. They looked like angels! That was a good moment for me because I was scared. I knew they would be wonderful, but I didn't know they would meet me at the car to assist me into the building." At that moment, Kris knew she made the right decision to place her recovery in the hands of the Selbyville team, but she reveals she was still unsure about the future. "I am an active person. I played pickleball, I dance, I taught a dance fitness class and practice yoga. I said, 'Bobby, will I walk again?' Bobby said, 'not only will you walk, you will dance again, and I will be there the first time you do!"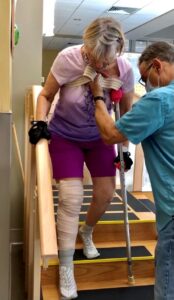 The hard work began right away. "The very first day, I'm in my wheelchair, and Bobby takes me over to the steps. He said I want you to step up on this step. I don't use the words 'I can't' but I did say 'I'm having difficulty'. So, he made the step smaller. Everything was progressive." After several therapy sessions, Bobby surprised Kris. "(He) took my wheelchair and put it out the door and said we are through with that!" Kris couldn't believe it, but trusted Bobby.  She moved onto a walker and could see herself making progress, slowly but surely. Kris spent her sessions lifting weights, using the Alter G treadmill, working on her balance, and finding her confidence again. Kris remembers, "I just kept reaching milestones a little at a time. I spent 3 days a week for 6 weeks working hard. I was always motivated to go to PT!"
But things didn't always go smoothly. Several weeks into Kris' rehabilitation, it became clear her foot needed special attention. It had become contracted and wouldn't flatten, making it impossible to walk. "Dominick began manual manipulation on my foot. With me working hard and them doing physical manipulation, it finally went down. I did not need surgery! Once my foot was down, I could work on the task of walking! After 6 months of PT, I could walk. I worked really hard, and I finally got to ring the (discharge) bell on October 29th. When I was in the trauma center, they would machine-lift me into a wheelchair. I could only sit in a wheelchair for 10 minutes. I went from that to walking!"
Kris knows she worked hard but points out she could not have done it alone. "It helped my spirit knowing my family was there for me. I know PT can be a drag…it can be boring, but Bobby and his team were very caring and positive in their approach." So where would Kris be today, without physical therapy? "I'd be sitting in a recliner watching TV. PT enabled me to look forward to achieving goals. It was the only way for me to walk again and be active. I'm now riding a three-wheel bike. I did 25 minutes against the wind for the first time. I was proud of that. I walked on the boardwalk with my grandchildren. I challenge myself every time I can. I am not yet where I'd like to be in my progress but hope that I can get there!".
And Kris meets each challenge head on. On June 4, 2021, one year after her accident, she went back to her favorite dance spot.  When she arrived, she couldn't believe her eyes. Bobby was there with his fiancé. And, as promised, he danced with Kris! It was a happy and emotional time for them both.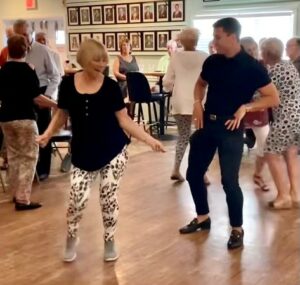 Bobby looks back on his time with Kris, "Throughout her treatment she displayed tremendous courage and persistence. When things were difficult, she took a moment to be upset but never more than a moment and continued to push forward. There were many days where she thought I was the one helping her but, in reality, she was the one who was helping me continue to push forward. It was her determination that gave me hope that if she could overcome that, then anything is possible."