By: Allison Weder
"My goal was to live life again, without crying all the time…actually function as a normal person would. I had lost so much." – Jennifer Zabloski, Phoenix Patient
A cervical epidural almost killed Jennifer Zabloski. The injection of steroid medicine into the area around the spinal cord in the neck, is meant to help with pain, tingling, or numbness in neck and arm. Jennifer's doctor recommended the treatment after she experienced pain in her shoulder, which was a symptom of a problem in her neck. That doctor told her she would need to try physical therapy first to see if it would work but fully expected to see her back in his office in a few weeks to receive the shot. Jennifer went to PT but reveals, "I didn't give it a chance. If I would have just given it a chance, I believe it would have fixed my problem."
Jennifer received the cervical epidural in February 2018, and what happened next is nothing short of a nightmare. Jennifer contracted meningitis and encephalitis after receiving the shot for her pain. It is a very rare side effect of the shot, but one that can be deadly. Jennifer fought the infection for a week in the hospital and then required care from an in-home nurse for another two months. Jennifer remembers, "I really needed PT after that because I was in some seriously bad shape."
Jennifer found TuDor Physical Therapy in Cornersburg, OH. TuDor PT is now part of the Phoenix Physical Therapy family. Jennifer explains, "I could not lift my head up; I could not lift my arms up. I needed PT, OT, Speech Therapy. I was crying when I went in for my initial evaluation," which is when she met the Cornersburg Clinic Director at the time, Vincent Ragozine, PT, DPT. "Vince was so nice and so kind. I was willing to grasp onto anything because I needed help. I didn't have anyone to help me. He was such a gentle person, that I decided to stick with him. He was willing to help, and I needed it so badly."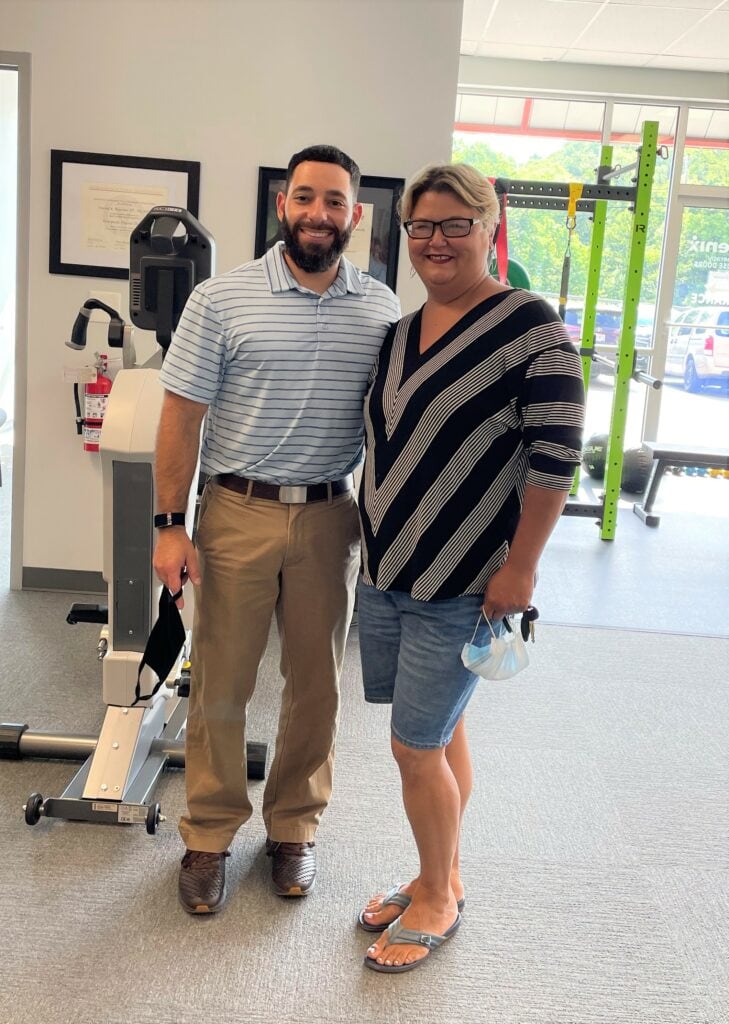 Vince Ragozine, PT, DPT and Jennifer.
The meningitis and encephalitis left Jennifer's body and brain weak. She needed Physical Therapy for balance and strength training. She needed Occupational Therapy to improve her hand-eye coordination. She needed Speech Therapy because she would get tongue-tied when she tried to form sentences. Jennifer had several goals when she started her recovery process. She remembers losing so much physically and emotionally. "My goal was to live life again, without crying all the time…actually function as a normal person would. I had lost so much. I had developed epilepsy through all of this. I had my driver's license taken away. So, I was physically just having all these things taken away from me, my personal freedom. I had to rely on others. My mom was driving me everywhere. I was just trying to survive."
Jennifer made progress with each session. She says everyone at the Cornersburg clinic made sure she felt comfortable. "When I came in, they were always asking me how I was feeling. They were so wonderful to me; always communicating and asking what was hurting. They really cared about me on a personal level. That made me feel like I mattered." That support enabled Jennifer to achieve several milestones while working with her therapy team. The most satisfying accomplishments? She was able to get her driver's license back and she is now able to work again. Vince recalls, "She was a dedicated patient with a positive attitude, and she did her home exercises as prescribed. Also, she was able to make corrections in her posture through her hard work, which were essential in her long-term improvement."
Jennifer still visits the Cornersburg clinic weekly to help with the residual effects from the trauma she experienced three years ago. She calls herself clutsy, and says she has trouble with spatial relationships which causes her to run into things and injure herself. Her recovery team has expanded over the years to include the newest Cornersburg Clinic Director, David Heck, PT, DPT; Karen Rapp, LPTA; Jim Daily, LPTA; and Sheryl Welsh, OTRL. Her favorite part of each session is her time spent with Meghan Thompson, LPTA. "She has helped me through all of these things. She has been a confidant…a counselor…she has become a friend. They are all my friends. I stop and see them when I have something big to tell them. That's how much I love them. Without them, I would never be where I'm at today after seeing them every week for three years."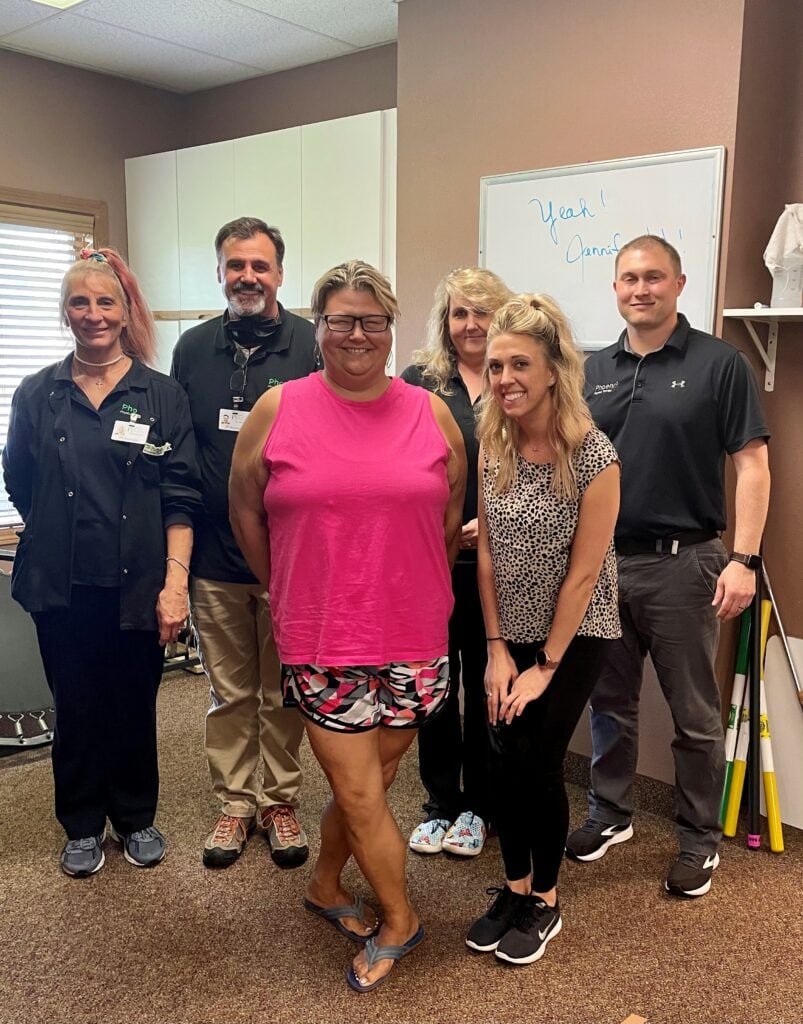 Jennifer and the Cornersburg Crew.
Looking back on her journey, Jennifer wishes she had taken PT seriously the first time it was offered. She offers this advice to people who might be unsure about whether PT works: "Listen, PT is the only thing that actually worked to make me better. Doing the stretching and exercises did. Medicine just temporarily relieves the pain. The only thing that actually fixes your muscles is the strengthening and stretching of the muscles."