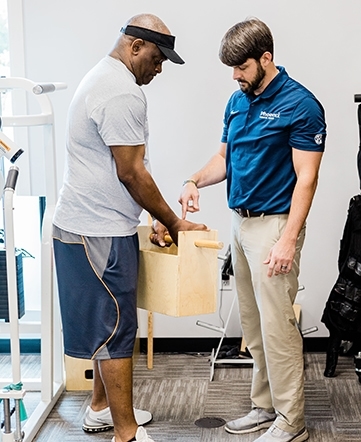 If an employer or physician requests, Phoenix Physical and Occupational Therapists will evaluate a specific job site for an employee or general job description. Our workplace safety analysis includes:
Job safety analysis
Job hazard analysis
Employee workforce safety
Ergonomic settings
Workplace health and safety training
OSHA workplace safety analysis
Patient education that ensures proper body mechanics are used by the employee
Once the evaluation is complete, a report is generated to suggest what changes, if any, are needed to maximize the workstation's compatibility with the employee. This program also encourages the employee to take an active role in his/her injury prevention.
At Phoenix, we do not take our patients for granted. We value each and every patient and always bring our "A" game with every visit to achieve the best outcomes for each patient we treat. Our success is very dependent on "word of mouth" referrals from prior satisfied patients and the physicians that refer them to us.