Providing Lymphedema Care Since 2005
Phoenix PT is one of the very few facilities in our community that offers specialized lymphedema treatment by Certified Lymphatic Therapists and Certified Wound Therapists. We achieve results unmatched by anyone in the tri-county area.
Our high level of treatment and expertise allows us to be recognized by the National Lymphedema Network. In the majority of patients, Phoenix PT treatment programs produce complete healing, within a short period of time.
Lymphedema is a swelling of a body part, most often the extremities. It may also occur in the face, the trunk and the abdomen. Lymphedema is a result of an accumulation of protein-rich fluid in superficial tissues, which can have significant pathological and clinical consequences for the patient if it goes untreated. – www.acols.com
Early stages of lymphedema may be temporarily reduced by simple elevation of the limb. Without proper treatment, however, the protein-rich swelling causes a progressive hardening of the affected tissues, along with recurrent cellulitis, and possibly fungal infection.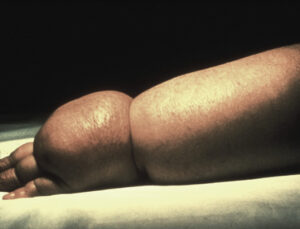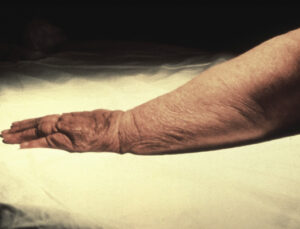 Phoenix PT offers a range of treatment methods to our lymphedema patients, including:
Gail DeMartino, PTA, LLT, CLT, WCC  from Phoenix PT Physical Therapy demonstrates Lymphatic Drainage.
General Nutrition Guidelines
A healthy diet and weight for those with lymphedema begins with eating right. This includes consuming well-balanced meals consisting of: lean meats, beans, lower fat dairy, fruits & vegetables, and whole grains. Each of these is important in providing adequate nutrition and balance. It is also important to consume the right amount of calories and incorporating a variety of whole foods, rather than highly processed foods which tend to contain less healthy ingredients and higher calories.
Portion control is also critical in achieving and maintaining a healthy weight. The average adult portion size found in most restaurants is 2-3 times the amount that it should be. If hunger is a problem, aim to consume frequent low calorie, filling snacks throughout the day, such as a few almonds or a piece of low-fat cheese, and drink a tall glass of water before meals in order to fill up and avoid overeating. Although there is no recommended diet for lymphedema, making nutritional choices that maintain the body's overall fluid balance may help.
Testimonials
After years of struggling with my legs swelling n being told I'm just fat lose weight. Struggling to take a shower everyday cause lifting my legs over the tub was a workout in itself. My husband not understanding the pain I was in n the heaviness in my legs. Thinking I'm just lazy when in fact I just hurt. I finally found relief n answers to why I didn't lose weight, why my legs hurt, why my legs swell n feel heavy..Finally someone who cares n understand the pain I'm in. The people here at Phoenix PT are amazing n caring n understanding.. Thank you for giving me hope to having a normal life with less pain
Maria F.
Facebook Review – Youngstown Location
The most loving & caring staff ever!!!! From the minute you walk in the door to the minute you leave, you are made to feel like family. You are not just a number to the Lymphedema staff, you are a person & your health matters to them. Their knowledge of this condition is second to none. You learn so much from the staff, & they take the time to explain if you have questions. Thank you guys for all you do for your patients, you're all amazing!!!
Vicki B.
Google Review – Youngstown Location
The staff at Tudor Physical Therapy Lymphedema are very professional,caring, and knowledgeable of their patients. Their services are exceptional. I recommend them to friends and family, one of the best places to receive physical therapy!
Darien
Google Review – Youngstown Location
I would recommend this office to anyone, who needs some kind of Physical Therapy or Lymphedema Therapy. Each therapist that works in this office, provides excellent patient care to each and every patient that comes here for therapy. When I first came to this office, I could barely move my right arm due to lymphedema. Gail who is my therapist is a wonderful person. I rate this office a number 10!!!
Lisa B.
Youngstown, Ohio